Live Recommendations for Tuesday, February 7, 2006
For this week's New York Night Train show list - go here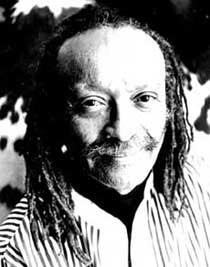 Cecil Taylor plus 2:3 AHA with Albey Bagochian and Jackson Krall – Blue Note $25. One of the most important composers and improvisers of the 20th century, Cecil Taylor has consistently rebelled against currents in jazz and mainstream music and explored new alleys. More punk rock than any of you, he's still a challenging listen forty years later and, as he's been playing with larger ensembles of late, this is a great opportunity to check him out with a small band in an intimate (albeit expensive) atmosphere. PS: Not the scandinavian "Take on Me" AHA.
Gary Lucas, Alan Licht & Billy Ficca Tonic 8PM $10. Gary Lucas is of course the bizarre and astounding guitar hero that made his name with late-period Captain Beefheart and has gone on to play with everyone you can think of. Tonight he plays a night of improv with Television's Billy Ficca on drums and the talented and prolific writer/musician/Tonic dude Alan Licht on the other guitar. With special guest vocalist Fay Victor and sax-man Jason Candler.
Everybody's Music Tonic 10PM $8. Stick around Tonic for the late show, Everybody's Music - with an all-star cast led by contemporary jazz legend Daniel Carter, and featuring the significant talents of Blaise Siwula, Ed Chang, Motoko Shimizu, Michael Evans, Tom Shad,and Jeffrey Shurdut.
Burnt Sugar - Zebulon FREE. Author/critic/journalist/guitarist/conductor Greg Tate's Burnt Sugar is at Zebulon. Modeled after Bitche's Brew, Burnt Sugar employs the unusual improvisational conduction system devised, employed, and made famous by Lawrence "Butch" Morris.
Slavic Soul Party! – Barbes $8. Matt Moran's twelve piece Slavic Soul Party is brass band that's been shaking 'em down around Brooklyn for some time. In addition to their fine musicianship, this band's strongsuit is their inclusiveness - you'll find no shortage of funk, or jazz (they do a mean version of late-period Ellington's "Blue Pepper"), or South and East Asian references tacked on to the eastern European base. Oh, I almost forgot, it can turn out to be a pretty wild and woolly dance party.
xTx, Yeasayer, Olympia Zadora - Cake Shop $6 . Matt Pond PA, dios (malos), Willy Mason - Bowery Ballroom $13/$15. Mudboy, Yomulyuk, Echolocator, Glen Olden, Bisexual Genghis Khan - Tommy's Tavern $5. Also worth checking out tonight, Tommy's Tavern has Mudboy, Yomulyuk, Echolocator, Glen Olden, Bisexual Genghis Khan. The Bowery has Matt Pond PA, dios (malos), and Willy Mason which you can read a lot more about in other more obvious rags. And the Cake Shop features xTx/Yeasayer, and Olympia Zadora.
Go to NYNT's Live Archive here.