Live Recommendations for Monday, February 13, 2006
For this week's New York Night Train show list - go here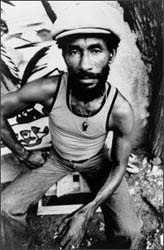 Lee Scratch Perry & Dub is a Weapon - B.B. King Blues Club & Grill $25-$30: The Upsetter himself is back to give you another lesson in Arkology. While Perry is one of the most important, innovative, and prolific musical figures of the Twentieth Century (not to mention that he's also one of the most aesthetically right-on), the Twenty-first is yet to see his best work. But that doesn't mean you shouldn't go to Times Square and show him your gratitude and give him the chance he deserves. Because he fathered everything you love about contemporary music - plus, you know he's got it in 'im.
Kyp Malone, Diane Cluck, Yalan Papillons, Stephanie Drootin - Scenic: While I'm sure that Diane Cluck will play her beautiful and haunting anti-folk songs, I'm not quite sure what to expect from Kyp Malone of TV on the Radio and Iran, Yalan Papillons of the Knitting Factory, or Stephanie Drootin, the leader of Consafos, and a member of Bright Eyes, Azure Ray, and The Good Life. All I know is that these are all talented folks and sometimes, if you're a fan of a particular chef, it's better not to order off the menu and let 'im surprise you
Vic Chesnutt, David Bazan, Mark Eitzel, Will Johnson - Bowery Ballroom $15: For those who don't already know these notable artists, Vic Chesnutt's been around forever making people laugh and cry as a solo acoustic act. Mark Eitzel is none other than the American Music Club guy who also has a slew of impressive solo albums. Bazan is from Pedro the Lion and Headphones. And finally, Will Johnson is from Centro-matic. Each artist on this towering songwriter will perform alone and also in collaborative work under the name as the Undertow Orchestra.
'FLIRT' - Cake Shop FREE: The Cake shop is unveiling their new sexy themes with 'Flirt' - which, according to them is 'a new monthly intellectual assortment of dudes & ladies getting off for their first time with other free improvisersŁguaranteed cuddle & spoon sessions in-between sets.' Members of Necking, People, and Talibam will participate. Mark my words, that innocent indie-rock basement'll be a sultry swinger's club before the year's end.
Lou Reed - Crobar: Lou Reed's sounding better than he has in a long time. I attribute it to his much-improved hair. Sadly, this show is sold out. But I don't write this thing for people who can't figure out another way in.
Tiombe Lockhart and DJ Waajeed - Nublu $5: Nublu on Mondays is totally happening. Last week they had Beans and this week they have Tiombe Lockhart and DJ Waajeed of the Platinum Pied Pipers are performing. Lockhart is a jazz-trained diva with underground sensibility and Waajeed has DJ-ed for and remixed everyone from Radiohead to Roy Ayers to Slum Village.
P.O.S. & MacLEthal - Knitting Factory Main Space: This fairly interesting midwestern bill features Rhymsayers Records' P.O.S., from Minneapolis, who does eclectic and pretty interesting hip-hop with no shortage of skills. And MacLethal, from Kansas, also has a bit of flow and isn't above sampling the James Gang.
Go to NYNT's Live Archive here.