For this week's New York Night Train show list go here. For information about the venues go here. Click the names in bold to learn more about the artists.
SXSW Live for Tuesday, March 16, 2006
I just don't feel like writing about New York shows while I'm stuck in the middle of this wild fest in Austin. So, for the next few days, I'm going to tell you what I witnessed, show you a few pictures, and give you a few picks for day parties and evening showcases. New York'll be back next week...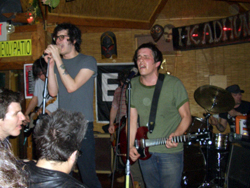 Last night I started out dropping by Antone's just in time to watch Damon McMahon walk off the stage at Antone's. Next I strolled down the gaudy sports bar-ridden strip, finding myself in extended street conversations with long lost friends from all over. Though I didn't really get to hear any music until late, I still wound up witnessing a bunch of amazing shows.
I fell into Headhunters just in time for Brooklyn's Fresh Kills as they started rolling into a set of pure hellbent intensity. Members of the Giraffes claimed the front of the stage, even singing along at points, as the Kills played every song as if it was their last.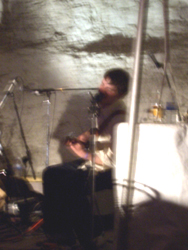 After that there wasn't much else to do except follow my plan and check out one of my favorite bands going, Gris Gris, at Club DeVille. While I saw Greg Ashley and gang setting up, it was just a teaser - the entire band was backing Oakland's Brian Glaze. After a short break, I wandered back in for yet another amazing Gris Gris performance. The lighting under the tent was a bit too bright and didn't quite lend to the atmosphere but the mighty Gris Gris triumphed - gradually intensifying into a rawer yet musically multi-dimensional version of Spaceman 3 – they were the British legends if they were dressed down - more informal, less pretetios and physically Texas (I know they now live in Oakland but you can take the Texan out of Texas, but…).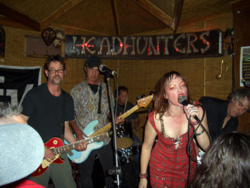 While a number of folks fled to parties, I stayed true to my plan to check out the Punkeroos and then GoGoGo Airheart. The Punkaroos, again at Headhunters, were nothing less than five legendary punk rockers who've all been doing the right thing alone and together in all kinds of incarnations and projects for more than two-and-a-half decades – Buff and Pat, the rhythm section from the Dicks, Dottie and Mark from Randy "Biscuit" Turner's (R.I.P.) Swine King (and before that Jaws of Life and many more), and Todd from Shoulders. So I witnessed yet another sweaty and intense show layed down hard by some of Austin's most unsung heroes.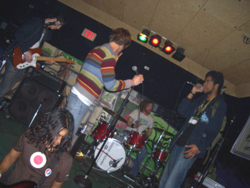 While most people probably wouldn't have been able to take any more, I still made it down to see San Diego's GoGoGo Airheart at Room 710. GoGoGo again did not disappoint. They were already banging hard by the time I walked in and didn't let up – even after they were told to stop – and then even after they turned the house lights on. The highlight of the set and of my evening was a defiantly long and soulful dubby jam featuring noneother than Gold Standard Industries weird rap king Subtitle.
I love to complain, but tonight I got everything that I expected and much more from a bunch of my favorite artists - everyone was magnificent and I'm thrilled to go door to door and find the best bands in the land going at it with all of their hearts and souls. The bittersweet truth of it all was that I found my taste more obscure than I imagined - there was plenty of room, no lines, and no trouble getting in at any of the shows. A lot of folks missed out, but on the other hand. Maybe it's best they stay at the big shows. Either way, I totally got the fix I've been craving for a long time.
Today is insane and I honestly have no idea where to go. At free day parties you can check out WuTang's Ugod, GZA, and Raekwon the Chef, The Old-Timerz, Awwesome Cool Dudes, Gil Mantera's Party Dream, Black Moses, Indain Jewelry, Black Heart Procession, The Joggers, Magic Christian, Deadboy and the Elephant Man, Psychic Ills, GoGoGo Airheart, Vietnam, Ghengis Tron, Greg Ashley, Knife sSkills, Ted Leo, Islands, Roky Erickson (twice), Goblin Cock, n0 things, An Albatross, Awesome Cool Dudes, Brian Jonestown Massacre, Wofmother, Plastic Constellations, Scout Niblett, Kris Kristofferson, DC Snipers, Cheater Slicks, The Rebel, Mike Wexler, Helios Creed, Parts and Labor, Holy Fuck, Presets, Yuppie Pricks, Scout Niblet, Notekillers, Islands, Hopewell, Quintron and Ms. Pussycat, Oh Beast, Hopewell, and hundreds of others. Go to the Austin Show List for specifics.
For tonight it's a bit easier. If you like experimental music, and want to stay put, and seated and get away from all the indy mersh action, go to the Table of the Elements show at Central Presbyterian Church features Thurston Moore, San Agustin, Zeena Parkins, Tony Conrad, Jonathan Kane's, Arnold Dreyblatt Ensembe, and Rhys Chatham "Guitar Army." The Goner Records showcase at Beerland also is worth staying for – starting out with NYNT favorites Harlan T. Bobo and King Louie One Man Band. As is Rahim, The Plastic Constellations,Big Bear, Fatal Flying Guilloteens, Part Chimp, and Thunderbirds are Now! at the Soho Lounge. One of the only interesting of the bigger bills of the fest is Deadboy & the Elephantmen, Noisettes, The Fiery Furnaces, The Dresden Dolls, Gomez, and Nickel Creek at Stubb's. DeVotchKa, Pterodactyl, An Albatross, and Measles Mumps Rubella are all up on The Velvet Spade patio and n0 Things and Parts and Labor can be found outdoors. Rock Brooklyn's finest Vietnam hit the Emo's 4 stage at 10:30, followed by We Are Wolves and Islands. Austin's brilliant Golden Arm Trio are at Habana Calle 6 at 8:00. Sun City Girls guitar wizard Sir Richard Bishop hits The Hideout stage at midnight. Honky headlines the Red Eye Fly at 1 AM.


Go to NYNT's Live Archive here.