Sun Ra
Heliocentric Worlds
ESP-Disc 2006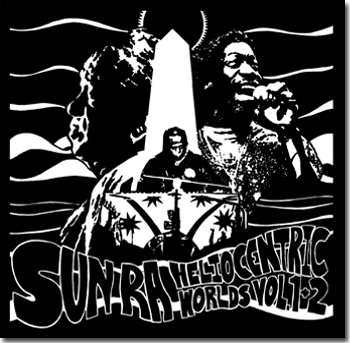 More than any other figure, Sun Ra is responsible for introducing folks like myself to the similarities between jazz and contemporary countercultural music. His aesthetics, his sounds, his imagery, his philosophy – everything tells a story that's at least as freaky as anything you've seen or heard before. He showed us novices what we should've known in the first place – jazz wasn't just for guys in suits and could be theatrical and out there.
Sun Ra's afro-futuristic spectacle, the very feature that made him so appealing to post-punk kids like myself, and, in his time, to outsiders like the MC5 and Parliament/Funkadelic, is the element that often made it difficult for jazz artists, critics, and fans to take him seriously. Though he tends to be conspicuously absent or under-represented from many grander historical jazz narratives, and his compositions aren't typically performed by contemporary jazz artists, the last decade Mr. Ra is finally getting some consideration beyond the esoteric world. And he should, because the Sun Ra Arkestra was certainly one of the most unusual and prolific outfits of the second half of the 20th Century – and I'm of the camp that would argue that they're also one of the best. And this release, Heliocentric Worlds Vol. 1 and 2, includes some of their finer moments on record.
You've seen Heliocentric Worlds Vol. 2 at record stores both reissued and in the original because it was released on ESP-Disc. Volume 1 on the other hand came out on Calibre and was much more difficult to obtain before it was issued along with 2 by ESP last year. The distinction between this year's and last year's paring is new remastering and cover art. The two sessions that yielded Heliocentric Worlds Volume 1 and 2 also had enough leftover tracks that, when ESP discovered them, they collected a third volume as well.
These sessions were recorded at a pivotal time for the Arkestra. After Sun Ra moved from Chicago to New York in 1961, his albums became increasingly more dissonant, adventurous, and free, penetrating deeper into the spatial motifs that, by 1964's Other Planes of There, finally begin abandoning the strong archaic imprint of Ra's mentor Fletcher Henderson and living up to Ra's "space jazz" concept. 1965, the year of the Heliocentric Worlds session, was also when Coltrane departed from the quartet and formed larger band not unlike Ra's, developing a concern for cosmic transcendence, and playing on a more dissonant plane on long free albums such as Ascension and Om. Coltrane helped achieve his new sound with young stars of the free jazz scene like Archie Shepp, Pharaoh Sanders, and Freddie Hubbard, the Arkestra's new East Village neighbors at the time. Ra, however, didn't infuse his unit with new blood, but instead created his contemporary sounds with John Gilmore, Marshall Allen, and a few more members of his old Chicago cast – pushing together into new galaxies, all the while showing the hip free youngsters that, beneath their wild costumes, theatrics, and unusual concept, the Arkestra could run with the best of 'em.
Volume 1 is comprised of the shorter songs. The opener, "Heliocentric" is a true space jazz classic driven by the strange walking bass patterns of the under-rated Ronnie Boykins. After a flute break, the light is cast on the entire Arkestra as they form nebulas of wind and brass harmonics for the flute to flutter around in. "Outer Nothingness" is particularly odd number - a 1960's hard/soft with the strange horn arrangements and eccentric percussion. Ra's fingers next fly into "Other Worlds" and the band leaps into a Gilmore-centric freedom frenzy. "The Cosmos" is another Ra otherworldly gem. "Of Heavenly Things" harkens back to "Heliocentric" with the bass and flute taking over. Ra shows us his tender side with his gorgeous solo piano gem, "Nebulae." "Dancing in the Sun" is the bebop-flavored icing on the cake.
Heliocentric Worlds Volume 2 contains the long suites "The Sun Myth" and "Cosmic Chaos" with a shorty, "House of Beauty" stuck in the middle (first song, second side on the LP). The "Sun Myth," introduced by some sophisticated bowed bass work by Boykin, turns on its head when the bongos and cymbals collide against it in random patterns. As the percussion intensifies, a long series of passages begin that feature exciting solos by Gilmore and Allen. "House of Beauty" is a sparse ugly beauty clearly from another realm whose highlights include Ra's clavoline and piano, more classically informed bowed bass, and Allen's piccolo fluttering like a PCP butterfly. After it fades out it descends into the aptly titled "Cosmic Chaos." This one really moves and winds up with a generous helping of Gilmore in top form - stealing the show with his vast vocabulary of frantic bursts and runs alone and accompanied. Though it's a bit more erratic and meandering than the other numbers, it's the one with a big finish.
The introductory chapters of an amazing decade-long run of brilliant classic LPs that culminate in Pathways to Unknown Worlds.
© New York Night Train , 2006