Danielson
Ships
Secretly Canadian 2006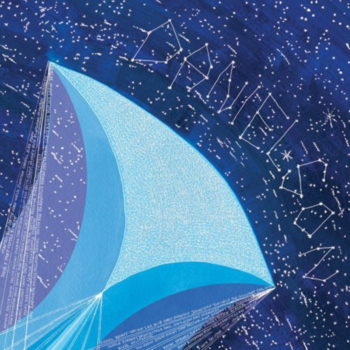 I sure didn't expect to like this. Don't get me wrong. I totally respect Dan Smith and recognize that Danielson Family was far ahead of their time - reviving orchestral folk-pop and infusing it with experimental elements long before all of the bands that're doing it today. I did my best to check out the Danielson Family when folks were beginning to go nuts over 'em in the 1990s. I even went to watch 'em play once. And while most of their critics were put off by all the Christian stuff, my main problem was just the cutesiness of it all – from the stage costumes, the disjointed jovial emptiness of the songs, and particularly Smith's childish high-pitched squeal. The entire low-rent spectacle seemed as ill conceived and pretentious as the college art project that it really was at its core – and even more so because the band and its fans seemed to think it was so clever. I can think of few bands that annoyed me so much. But in my new spirit of agnostic open-mindedness and Christian forgiveness, I decided give the new one a spin and must concede that its pretty darn brilliant (substitution of "damn" was intentional).
Daniel Smith took a couple of years to record Ships and it sounds like it. The musicians laying down the plethora of tracks this time include not only Danielson Family members, but also Deerhoof, Sufjan Stevens, Why?, Serena Maneesh, and a cast of thousands.
Ships is one of those epic records that seem to be popping up more and more each year. I'm of course talking about every band in Canada, Animal Collective, Fiery Furnaces, and all of the others recording these grandiose pop opuses. Elaborately composed of dozens of instruments, chock full of parts and dynamics, and with a few experimental elements tossed in for good measure. The musical moment begins to mirror 1967 all over again – and, if I had to compare it to one of the giants of that fine year, Ships'd be Forever Changes – there're even a couple of parts here that'll remind you of it directly - acoustic guitars strummed hard and fast on the top of the mix with orchestrations in the back rhythmically mimicking the vocals – check out the chorus to "Cast It At The Setting Sail" for an example. There's also a bit of Incredible String Band's quirky Angloisms and a lot of Physical Graffiti's composed heaviness.
Daniel Smith seems to be simultaneously abandoning his high-pitched Adam Sandler baby talk yelp and embracing his Robert Plant voice – which is good news since his Planty voice carries the strongest moments on this album as much as his Sandler brings some of the others down (in all Fair-ness you could call it more of a Jad). In addition to the more impressive songwriting and arranging here, I think this vocal improvement is what changes everything for me about this artist. Both Plant and Sandler, Smith's binaries, are represented here in what I read as a battle for his Christian musical soul. Plant's dominance is of course evidence that Smith is finally getting his much-needed Satan infusion – which, though no good in terms of the afterlife, is much better for music and its consumers (listen up Sufjan Stevens). Other evidence that Smith is on a road to spiritual ruin is just the fact that this is his hardest rocking album to date.
Ships sets sail with Robert Plant in full effect on a strong block of four hard-hitting jams that are the finest on the record. You hear Daniel running out of steam on the fifth, "When It Comes To You," and, on the intro to "Two Sitting Ducks," Sandler takes advantage of this weakness to jump in before Robert Plant smashes him on the first verse – hence the song stomps. But Sandler returns on the experimental "My Lion Sleeps Tonight" and the Animal Collective-y "Kids Pushing Kids." But in "Time That Bald Sexton" Plant fights him throughout, and is on top for the mellow and tasteful "He Who Flattened Your Flame Is Getting Torched." And the album concludes with the cute strummy very Danielson Family folk of "Five Stars and Two Thumbs Up" – in which Sandler kicks Plant's ass at the end of the final round.
A happy ending, but stay tuned because I have a feeling Plant'll be back stronger than ever in the next bout. The struggle is worth observing and shows that Daniel Smith is beginning to see the light and moving in the right direction. I'm finally ready to jump on this train. Who'd've thought it'd be hell-bound?
MEDIA
"Did I Step On Your Trumpet" MP3
© New York Night Train , 2006