the news is back....
06:08:2006: Billy Preston R.I.P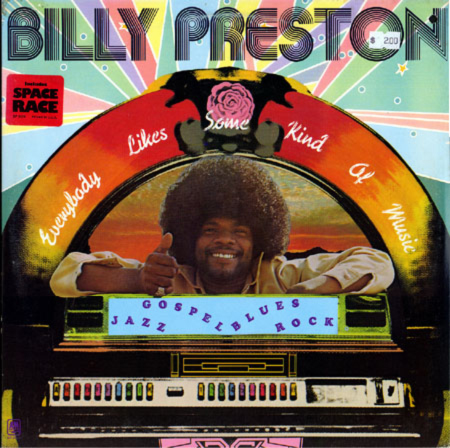 Billy Preston, who was in a coma since November, died of a kidney-related illness on Tuesday.
Billy Preston not only had one of the most diverse and prolific careers of any soul or pop musician, but played on astoundingly high quality material. Not only an important solo artist with a number of good records to his credit, Preston was the consummate side musician up until his death. And, even if you haven't heard his own hits like "Nothing from Nothing," whoever you are, you know his work. He was omnipresent. You can find him on everything from early soul masterpieces like Sam Cooke's Night Beat to rock classics like The White Album, Abby Road, Let It Be, Plastic Ono Band, All Things Must Pass, Exile On Main Street, and Blood on the Tracks to easy listening hits like "You Are So Beautiful" (which he co-wrote). Billy Preston's gift to the world wasn't only his soul jazz organ jams in the 1960s, his pre-disco space funk instrumentals in the 1970s, or his vocal soul, it was also the way he snuck a little bit of spice into big pop hits – and that's why they hired him.
Backing up Mahalia Jackson by the time he was ten, starring in W.C. Handy's Hollywood biopic St. Louis Blues at eleven, hitting the road with Little Richard by the time he was fifteen, and playing on Sam Cooke's best album, Night Beat (1963) when he was sixteen, by the time Preston recorded his debut solo LP, Sixteen Year Old Soul (1963), he was already a noted Vee Jay sideman who was well versed in gospel, R&B, rock'n roll, and the hybrid form that was just emerging as a genre, soul. Preston continued his work as a sideman on the more soulful side of the spectrum on Quincy Jones' late 1960s/early 1970s work, Aretha Franklin's Live at the Fillmore West and Young, Gifted, and Black (featuring her funkiest hit, "Rock Steady"), and one of King Curtis' best, Everybody's Talkin'. Preston also appears on Lightnin' Rod's Hustler's Convention, an extraordinary and underrated album that is perhaps the work that most informed Melle Mel and the other seminal South Bronx MC's of another emerging genre ten years past Night Beat – the one that we now call rap. Though the road from Night Beat to Hustler's Convention included some hefty accomplishments, and Preston continued playing with R&B artists like Bobby Womack, Ray Charles, and Macy Gray up until his death, his two big claims to fame were his work with British pop bands and as a 1970s solo artist.
Preston befriended the Beatles on the 1962 Little Richard tour and, seven years later, wound up lending his talents to The White Album (1969), Abby Road (1969), and Let It Be (1970). Preston even played the final rooftop concert with the band – though you'll have to look hard to find him. He contributed so heavily to "Get Back" that it became the only Beatles song credited to the band and a sideman, "The Beatles with Billy Preston." "Get Back" became so closely identified with Preston that he wound up singing it in the 1978 film Sgt. Pepper's Lonely Hearts Club Band, in which he played Sgt. Pepper in an electrifying conclusion that is one of the films sole high points. There were even moments documented in the Let It Be studio tapes in which you hear The Beatles arguing whether or not to make Preston a full-time member. And, for more evidence of which Beatle didn't want Preston in the group, Paul McCartney was the only Beatle that didn't make use of Preston in his solo work. John Lennon had him playing organ on Plastic Ono Band (1970) and Some Time in New York City (1972). Ringo included him on Good Night Vienna (1974) and his late-period All-Star Band. But George Harrison, who brought Preston in the fold in the first place, collaborated with the organist the most, featuring him prominently first on All Things Must Pass (1970) and then on albums throughout the remainder of his life – including a starring role in his Concert for Bangladesh (1971).
While The Beatles-related work includes more than a lifetime of classics, it was just the tip of Preston's rock session iceberg. Once they split, Preston became the Rolling Stones' secret weapon. Preston's organ is the one that you hear funking up Exile On Main Street (1972), Goat's Head Soup (1973), It's Only Rock'n Roll (1974), Black and Blue (1976), and Love You Live (1977). He's responsible for the resonating B-3 that totally makes Bob Dylan's Blood on the Tracks (1975). He also wound up playing with Clapton, Joe Cocker, The Monkees, Rod Stewart, Elton John, Yoko Ono, John Mayall, Johnny Cash, and other rock/pop artists all the way up to his most recent session work with the likes of Jet, The (International) Noise Conspiracy, Neil Diamond (12 Songs!), and The Red Hot Chili Peppers.
Though Preston's work as a sideman is so astounding that it will always eclipse his solo work, much of his own music is also definitely worth a listen. His organ instrumentals in the 1960s don't touch the creativity of soul jazz heroes like Jimmy Smith and Jimmy McGriff on one end of the spectrum, or even the raw bacon fat of more rudimentary organists like Booker T on the other – but they groove hard just the same. His 1970s vocal hits like "Nothing from Nothing" and "Will It Go Round In Circles" are catchy laid-back nuggets that are decidedly funky. My personal favorites are the kitschy space-funk instrumentals like "Space Race," "Struttin'," and "Outta Space," which is lightly-jazzy pre-disco Afrofuturistic pop at its most polished – the soul of the NASA machine.
Without dwelling too long on the subject, Preston's work as an easy listening pianist/composer/vocalist also shouldn't be underestimated. In addition to his studio work with Barbara Streisand, Luther Vandross, and the rest of 'em, and, as I mentioned earlier, co-writing "You Are So Beautiful," as a solo artist he sang "With You I'm Born Again," "I'm Never Gonna Say Goodbye," and a number of other soft floral station-changers.
Other than the easy-listening spot on his record, I've never once been tempted to move down the dial during a Billy Preston song. As I write this I hear that break in "Space Race" running through my head – the one that could be a Taxi-like TV show theme. No it's not Sun Ra. It ain't even Parliament light. But it's at least as good as Earth, Wind, and Fire and is an audio portrait of the cosmic optimism of the early 1970s. And, as far as Billy Preston the sideman is concerned, in addition to his prolific and diverse body of work in the soul field, I doubt that any one musician played on as many classics from the late-1960s/early-1970s rock canon. When you're on hold, when you're in a supermarket, when you're stuck with a classic rock or oldies station on a road trip, when you hear his vibrating Leslie, his bluesy runs, his funky syncopations adding extra dimension to your rock and soul, you are immediately aware that Billy Preston is a man who made the world a much better, funkier place.
Now get back to where you once belonged Billy.
MEDIA
Billy Preston, "Space Race" mp3
Ultimate Oldies one hour tribute radio show (rm)
Chicago DJ Remembers Billy Preston (video)
LINKS:
Billy Preston official site
Washington Post obituary
Rolling Stone obituary
BBC Obituary