06:23:2006: A Ramones Musical?...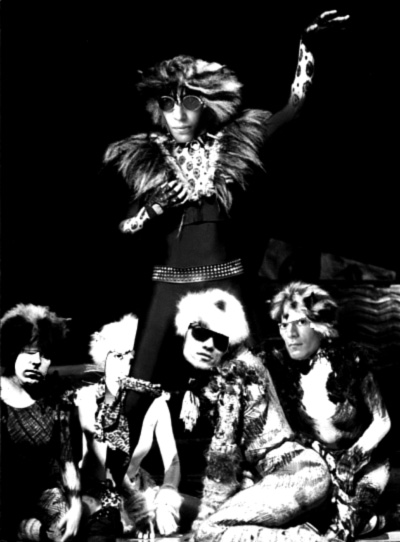 British punk rock was all about the spectacle from the start. While the earlier American version may have been a little more aimless and less commercial, The Ramones and company had no problem selling out. The musical, the final stage in pop music commodification, is also the official eulogy for an artist. When you've squeezed everything you can out of back catalogs, compilations, and rarities, this vulgar cartoon museum with a funhouse mirror perspective is all that's left. On Broadway, where you can now find everything from Abba to Billy Joel, you soon may also come across a musical stage adaptation of the Ramones.
But before downtown climbs up to midtown, while its still on its wide detour of malls and K-Marts worldwide, Gabba Gabba Hey!, which hits London's Koko Nightclub on July 31, is being billed as the world's "first punk rock musical" (what about Rock and Roll High School? OK, the first stage musical, c'mon, there've been hundreds up to the present – take me to The Cake Shop this week and I'm sure you'll find at least one). The production, which has been popping up in random spots like Australia, Germany, and Switzerland the last couple of years, this time includes a nightly appearance by the last Ramone standing, founder/drummer Tommy Ramone.
I can hear you grumbling from the other side of your speed-line. Cut it out. If any band's embraced the pop culture with a playful aesthetic that was at once irreverent and nostalgic, it's gotta be The Ramones. As with The Rock and Roll High School example, or, if you ever saw 'em live, the Zippy the Pinhead character on stage year after year toting a "Gabba Gabba Hey Hey" sign, a cornball musical fits the band's unholy sense of humor like a pair of tight-pegged jeans.
Scrawl this in your high school punk lyric notepad and smoke it:
Did you ever think you would see the day
Of "Chinese Rocks" on the Great White Way?
Gabba Gabba Gabba Hey Hey Hey...
SOURCES:
Gabba Gabba Hey Official Site - check it out! hilarious...
NME
Pitchfork
Yahoo News