09:06:2006: NYNT Award for Literary Excellence... Iggy and the Stooges Rider: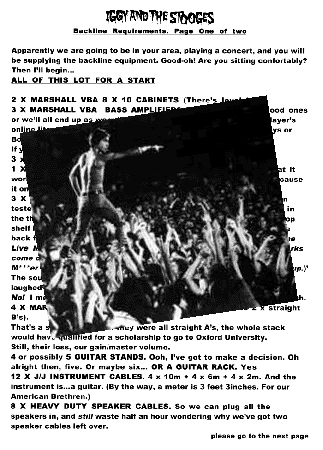 If reading the Times Book Review or the New Yorker hasn't yet led you to the contemporary Swift or Voltaire (or even H.L. Mencken for christ sakes) you've been searching for, perhaps you've been looking in the wrong place.
Have you tried the internet yet?
No, I'm not talking about Amazon.com, or those literary journals, or any of that drivel. I am referring to the Smoking Gun - where, in the concert riders section, you will find a document penned by an unsung man of letters who, while a bit less subtle than, say, Pope, but more witty and insightful than our foremost current jester sages like Chuck Klosterman, or that Gawker dude or whoever, has created what very well may be the penultimate work of contemporary prose.
The mysterious author's name is Jos Grain and the document he produced is Iggy and the Stooges' concert rider. He has written a contractual document that simultaneously serves its practical purpose while offering a profound commentary on the human condition. Here you will find a masterful balance form and function infused with man's most precious truths and, dare I suggest, perhaps even the secret to the universe. Finally, this piece, like the better literature of its type, also offers invaluable insight into the life and work of these fine artists.
I would like to thank Fabio from Earwax records for alerting me to this proud new addition to the world's literary canon. Whitout any further ado...
Iggy and the Stooges Concert Rider
Epilogue: I just got word from Jos Grain himself that the latest greatest Stooges riders can be found here.