Six Organs of Admittance
The Sun Awakens
Drag City 2006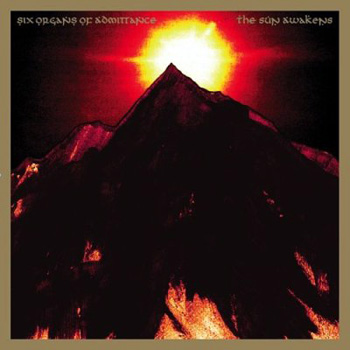 Guitar maverick Ben Chasney's ethereal solo project Six Organs of Admittance has just released its eighth album The Sun Awakens. And if you love his work, you're guaranteed to lap this up. If you don't know much about the Six Organs, the new one is a great place to start.
While his isn't quite a household name, even in indie households, Ben Chasney is quite simply: the man. A heavy drone-master equally at home with intricate acoustic meditations, Chasney, known for his work with Badgerlore, Current 93 and, particularly, Comets on Fire, is at his best here with the Six Organs. Mystical, yet never hokey, thoroughly modern with compositions equally at home in the avant garde and indie rock worlds, Chasney's Six Organs of Admittance is unpretentious spiritual music that stubbornly resists pigeonholing.
Elegant and beautiful like last year's School of Flower, Sun Awakens surpasses its predecessor in almost every category and warrants Chasney serious consideration among the pantheon of contemporary music. Super audiophile candy, this album's sonic excellence can be partially attributed to the outstanding production of the Fucking Champs' Tim Green. Oh yeah, and it's a really free and tripped-out affair to boot.
"Torn by Wolves," and its acoustic sibling "Wolves' Pup" gives post-rock a much needed light psychedelic infusion. "Bless Your Blood" continues along the same lines, but even more hallucinogenic thanks to the addition of Chasney's effect-drenched stereo vocals and harmonic backups. "Black Wall" starts off like a lot of the Fahey-informed syncopated pentatonicism being passed around of late, but the fuzzed out guitars and harmony vocals really take it on a unique trip elevated further by some out-of-this-world Hendrix blues-scale feedback torture at the end. And while we're on the subject of dead 60s rock stars, "The Desert Is A Circle," is introduced with "Love Her Madly's" rhythm riff on the acoustic guitar - but is quickly transported by a fistful of lyrical reverbed-out surf Morricone electric guitar composition. "Attar" is a powerful rolling blues raga.
Finally, the tour de force here, occupying the entire second half of the album, is the twenty-three-plus minutes of "River of Transfiguration." This long ambient Buddhist piece is the point that will separate the tourists from the locals. The chanting, ambient sounds, incidental drumming, guitar drones and solos build on one another to the point where you either consider yourself levitated or throw your arms in the air in bored frustration deciding that this definitely isn't for you. My jaded ears hear this as a rare gem – succeeding where dozens of other long pieces and typically fail – a subtle series of interesting events, an amazing feel, and some serious development firmly bundled together by an aesthetically-coherent string. Less of a hippy jam, its more the 21st Century ambient rock equivalent of the 60s and 70s free jazz that had Eastern tendencies – by the likes of Alice Coltrane (obviously), and, in a lesser sense, John Coltrane, Pharaoh Sanders, etc.
Clearly not freak folk and leaps and bounds above ninety-nine percent of the stuff out there. With The Sun Awakens Ben Chasney proves himself a guitar hero and composer of the first degree.
LINKS:
Six Organs of Admittance