GRAND MAL RECORD RELEASE PARTY
Love Is the Best Con In Town
MARCH 30, 2006
TONIC, NYC



with
GRAND MAL 11:00 PM
VIETNAM 10:15 PM
DAMON MCMAHON (INOUK) 9:30 PM
THE SILENT LEAGUE 8:45 PM
TWILIGHT 8:00 PM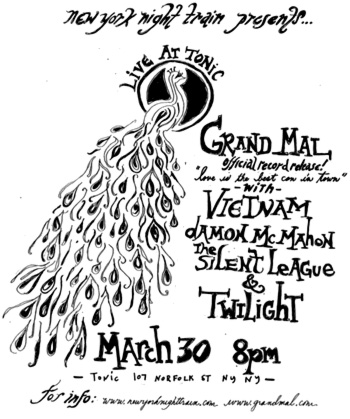 New York Night Train presents both the return of Grand Mal and the release of their fifth album, Love is the Best Con In Town at Tonic on March 30. The theme of the show is that all of the acts include musicians who played in Grand Mal at one point or another. While we weren't able to obtain Mercury Rev, Antony and the Johnsons, or the many others whose members have done time in the legendary Mal, we did however come up with more amazing bands than Tonic would permit - so it is now pared down to a very accomplished and eclectic five acts for one of the best bills so far in 2006: Grand Mal, Vietnam, Damon McMahon (ex-Inouk), The Silent League, and Twilight.
After the release of Grand Mal's highly acclaimed Bad Timing (Arena Rock 2003), leader Bill Whitten abandoned the music business and quietly retreated to his home studio. The resulting collection, Love is the Best Con In Town, is the group's first album recorded exclusively by Whitten (after four records with über-producer Dave Fridmann [Flaming Lips, etc]). The twelve gems found here gradually came together over period of a year with a distinguished cast of friends including Whitten's most enduring collaborator, drummer Parker Kindred (currently Antony and the Johnsons, ex-Jeff Buckley, etc.), Joan Wasser (AKA Joan as Policewoman – who's played with everyone from Lou Reed to Nick Cave), Adam Green's entire band, Hopewell, and may more. Simmering with homegrown soul, the piano-based album is more stripped down and less bombastic than previous Grand Mal efforts – think of a collision of early Todd Rundgren, Holland-era Beach Boys and of course the relaxed swagger of classic Grand Mal-style r'n'r.
Spacy classic rockers Vietnam, led by ex-GM bassist Michael William, since splitting with Vice Records and expanding to a four-piece, have employed their poignant songwriting, masterful musicianship, and incredible taste to become one of New York's top indie bands.
Inouk's talented and charismatic leader Damon McMahon just went solo and is currently recording his debut for Astralwerks.
The Silent League, originally the chamber pop solo project of former Mercury Rev/GM keyboardist Justin Russo, has grown into a major project with a critically-lauded CD on File 13 Records.
Twilight, a trio led by recent Memphis transplant Nick Ray (Viva l'American Death Ray/68 Comeback) and featuring members GoGoGo Airheart, Cause for Applause, and, of course, Grand Mal, is the latest addition to the NYC underground.
Go here for more info on Love is the Best Con In Town.