After the 1995 dissolution of Hartford, CT's mess-rock poster children St. Johnny, who Sonic Youth signed to Geffen in 1992, bandleader Bill Whitten, with only an Epiphone Les Paul Jr. copy and a notebook full of rough edged hits to his name, found himself in New York. Informed by New York Dolls, T-Rex, and Mott the Hoople instead of his previously slack, droning St. Johnny work, Whitten introduced Grand Mal later that year. Whitten has spent the last decade since writing brilliant off-kilter rock'n'roll gems about first round K.O.'s. bail-jumping ex-wives, disaster films, mustachioed fascists and endless misadventures. Continuing work with St. Johnny producer Dave Fridmann, including studio appearances by friends like the Flaming Lips Stephen Drozd and Mercury Rev's Grasshopper, Grand Mal released a slew of albums on Number 6, Slash/London, and Arena Rock before calling it quits after 2003's critically acclaimed Bad Timing. Whitten quietly returned to home recording, and, out of nowhere, delivered his most realized, relaxed album to date: Love Is The Best Con In Town.
The first Grand Mal record Dave Fridmann did not produce, Love is the Best Con in Town was created in Whitten's apartment over a seven-month period. He explains, "It was all done in a casual yet unrelenting way. My girlfriend had just moved out and I used that as an opportunity to get some real work done. Shaggy-headed young men were coming in and out of my apartment day after day, week after week. I think my neighbors were deeply gratified when I finally decided to take what I had up to Tarbox Studios and have Dave Fridmann master it." The list of Whitten's collaborators on the record includeJoan Wasser (AKA Joan as Policewoman), current members of The Gnomes, The Silent League, Hopewell, Adam Green, Antony and the Johnsons, Antony and the Johnsons, and a cast of many more.
Simmering with homegrown soul, the piano-based album is more stripped down and less bombastic than previous Grand Mal efforts – think of a collision of early Todd Rundgren, Holland-era Beach Boys and of course the relaxed swagger of classic Grand Mal-style r'n'r. Loaded with some of the best songs of Bill Whitten's career.
Listen to "The Best Con in Town" MP3
Read Ari Soduval's review in Gibson Backstage Pass
Read mark e's reallylovemusic.com's review
Read songs:illinois review
Go to NYNT's Grand Mal Artist Page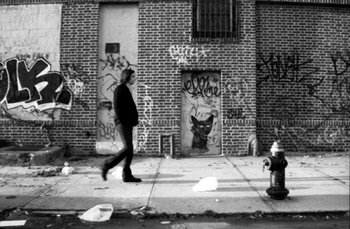 Track Listing:
01. From Hartford to Times Square.
02. Cold as Stars
03. Count Me In!
04. Not a Penny to My Name
05. People Change (Maybe They Don't)
06. His Baleful Eye
07. The Best Con In Town
08. Living on Charity
09. C'mon
10. World I Thought You Turned Yer Back
11. Here's to Our Estrangement
12. Down At The Country Club