"Widely acknowledged as the mother of all soul jams" - Eva Madoff, Time Out New York
"New York's best soul party" - Rozalia Jovanovic, Flavorpill New York
"Jonathan Toubin is the only person we can call a "professional DJ" without involuntarily making a jack-off motion with our hand.... his parties are like what Ancient Stonehenge was like if it was, as archaeologists theorize, filled with people dressed many times better than you completely losing their shit." - Mike de Leon, VICE
"New York Night Train's Jonathan Toubin throws the raddest underground rock parties in New York" - Alexander Thompson, Paper Magazine
"DJ Jonathan Toubin is creating his own kind of dance revolution" - Araceli Cruz, Village Voice
JONATHAN TOUBIN HAS FINALLY RETURNED TO THE BOOTH AFTER 5-MONTHS OF RECOVERING FROM A MISHAP IN PORTLAND, OR! Read about his homecoming in New York Times, Rolling Stone, Village Voice, and Vice. And hear Mr. JT talk about it on National Public Radio - WNYC "Sound Check" (where he and Rufus Wainwright were the guests on Tuesday) here.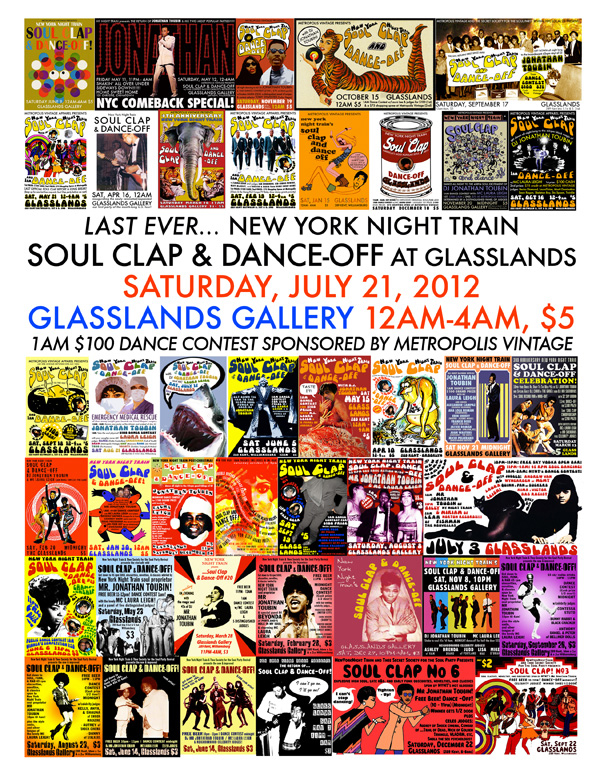 New York Night Train's Soul Clap and Dance-Off is North America's most popular soul party - by far playing to more people in more places and generating more capital than any of its contemporaries. The concept is simple-all night dancing to the wild soul 45s of subterranean superstar DJ Mr. Jonathan Toubin and, in the middle, a $100 dance contest judged by a community panel. Recession-friendly mass entertainment with a universally cheap door price, the dance party/spectacle not only sells beyond capacity at home, but has brought its excitement to domestic markets all the way from Portland, Oregon to Portland, Maine and internationally from Tel Aviv to Mexico City-including monthly residencies in New York, Chicago, LA, San Francisco, Oakland, and PDX. The Dance-Off portion features judges from every edge of music and culture from classic subcultural icons like Mike Watt and Jello Biafra, to rock stars Andrew Van Wyngarden (MGMT) and Nick Zinner (Yeah Yeah Yeahs), to interesting cultural figures like Karla LaVey (Satanic Priestess) and Matt Gonzalez (Green Party Vice Presidential Candidate) to your favorite neighborhood heroes. Catch The Soul Clap!
"A shimmy-worthy mix of maximum rock'n'soul" - New York Post
"DJ Jonathan Toubin spins the 45s. The mid-'60s to early-'70s r &b and funk will have you dancing with the stars." - Sharyn Jackson, Village Voice
"New York's premier dusty 45 party, attracting rockers, mods and dandies alike." - Time Out Chicago
"Genius" - Josiah Hughes, Exclaim!
"An eve of 45-rpm soul sizzlin' and expressive dance." - Lina Lecaro, LA Weekly
"Ridiculous and fun" - Jennifer Maerz, SF Weekly
""It's a goddamn national treasure!" - Wm Steven Humphrey, Portland Mercury
"The Soul-Clap is a party without parallel where you'll experience dance hysteria and soul grooves you'll never hear again." - Megan O'Neil, Detroit Metro-Times
UPCOMING SOUL CLAP & DANCE-OFF PARTIES:
08-04 Austin, TX - Red 7
08-11 Asbury Park, NJ - Asbury Lanes
08-18 Kingston, NY - BSP Lounge
08-25 Montreal, CA - Divan Orange
09-06 Seattle, WA - Chop Suey
09-07 Portland, OR - MusicFest Northwest festival
09-08 Vancouver, BC - Waldorf Hotel
09-09 San Francisco, CA - Great American Music Hall
09 - 12 Los Angeles, CA - The Echo
09 - 15 New Orleans, LA - Saturn Bar
09-22 Brooklyn, NY - Brooklyn Bowl
09-23 Asbury Park, NJ - All Tomorrow's Parties festival
09-29 Baltimore, MD - Golden West
10-06 Nashville, TN - Stone Fox
10-13 Kansas City, MO - Record Bar
10-20 Brooklyn, NY - Brooklyn Bowl
11-03 Los Angeles, CA - Los Globos
11-06 Washington, DC - Bohemian Caverns
11-10 Detroit, MI - Old Miami
11-17 Brooklyn, NY - Brooklyn Bowl
11-24 Atlanta, GA - Old Miami
12-01 St. Paul, MN - Turf Club
12-08 Miami, FL - Art Basel
12-15 Brooklyn, NY - Brooklyn Bowl
12-29 Chicago, IL - The Hideout
OTHER PARTIES FEATURING DJ JONATHAN TOUBIN:
FRIDAYS: NEW YORK, NY: HOME SWEET HOME: SHAKIN' ALL OVER UNDER SIDEWAYS DOWN
09 - 10 Los Angeles, CA - The Standard Hotel Downtown Rooftop - Soul Dance Party
10-27 Brooklyn, NY - Brooklyn Bowl - NY Night Train Haunted Hop
11-30 New Orleans, LA - Siberia - NY Night Train Haunted Hop


Follow New York Nght Train on
Twitter (https://twitter.com/NY_Night_Train),
Facebook (http://www.facebook.com/pages/New-York-Night-Train/47167209984)
join the mailing list: mailinglist-at-newyorknighttrain.com
Book Mr. Jonathan Toubin, the Soul Clap and Dance-Off, or any other NY Night Train party
in the United States contact Michelle Cable at Panache Booking
for Europe conact Buzz at U-Turn Touring
for publicity materials, interviews, etc contact: Blake at Blake Zidell and Associates

Listen to Mr. JT's "NY Night Train Soul Clap Classics Volume 1" mix here.
Read Soul Clap/Jonathan Toubin press here.
Find Mr Jonathan Toubin's promotional pictures for print and online here.