"JONATHAN TOUBIN was just awarded 2015's "BEST DJ" in the VILLAGE VOICE 60th anniversary BEST OF NYC: "We might live in an EDM world, but Jonathan Toubin has no truck with today's musical whims. Since 2007, Toubin's Soul Clap and Dance-Off has brought throwback pizzazz and retro cool to New York's late-night underground. Culled from an endless array of long-forgotten Sixties soul singles, Soul Clap is pure musical dynamite, the kind of after-hours party that exposes today's iTunes-bred, press-play DJs for their relative lack of roots and ingenuity. No fist-bumps or atomic bass drops here; instead, Toubin lovingly crafts five-hour sets that bring lost chestnuts from the likes of Vernon Harrell and the Blendells into clearer focus for a new generation of dance enthusiasts. You can try to put your moves to better use, but you'll be hard-pressed to find more cathartic, sweatier fun elsewhere in the city."
Jonathan is pretty much the only DJ we actually like." (VICE, 2014)
"Particularly chic... one of the most popular spinners in Williamsburg and the founder of the New York Night Train dance parties. His fare is already cleaner and more appreciative of American pop music history than much of the rest..." (NY Times, 2013)
"The most-liked man in the soul music scene" (Rolling Stone, 2012)

"Jonathan Toubin is a multihypenate in every sense of the word... Toubin fuses obscure rhythm and blues from the '50s and '60s, with rock 'n' roll and soul 45s. His ongoing New York Night Train parties easily draw those typically found sulking in corners of bars out onto the dance floor." (Interview Magazine, 2015)
"New York Night Train's Jonathan Toubin is a veritable NYC nightlife institution." (TIME OUT, "Best Parties in NYC Right Now," 2015)
"BEST DJ" (Village Voice "Best of NYC" 2014 Readers' Poll winner)
"Jonathan Toubin is New York rock and soul DJ who plays his collection of original 45rpm records to packed dance floors all over the world." (Outlook, BBC World Service, 2014)"

"The best soul DJ in the land" (Flavorpill, 2013)
"The world's PREMIERE soul DJ — on 45s, no less — no party is complete without a little Toubin." (MTV.com, 2014)

"The tireless DJ Jonathan Toubin keeps dancers moving at his Soul Clap parties" (New Yorker, 2013)
"The long-running Soul Clap remains one of the sweatiest dance parties to be experienced in New York City. Fueled by his rare and raucous 45s collection, DJ Jonathan Toubin draws on raw soul and the most feral strains of rock 'n' roll from the early 1960s to power the nights." (Wall Street Journal, 2014)
"DJ Jonathan Toubin is creating his own kind of dance revolution" (Village Voice, 2011)
"Soul Clap is the most popular soul dance party in the world, playing to more people in more places than any other… Toubin plays all original soul 45s from the 1960s and uncommon upbeat cuts perfect for dancing the night away." (SXSW Music News, 2014)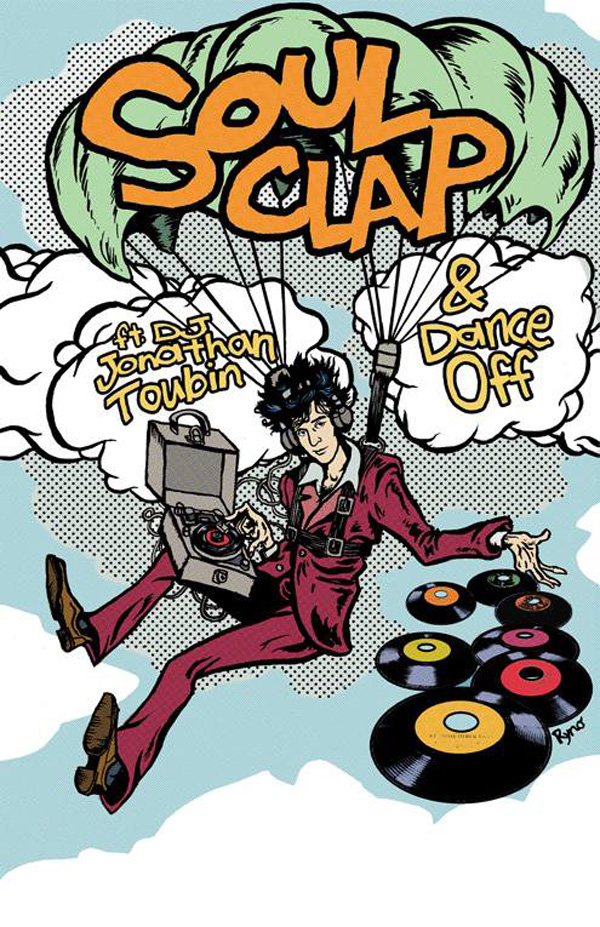 With nearly 1,000 paid monthly in Brooklyn and selling out dozens of international markets annually, New York Night Train's SOUL CLAP AND DANCE-OFF is by far the world's most popular soul party and 45 party. The concept is simple - all night dancing to the exciting and exquisite 1960s soul 45s of world famous 45rpm rock and soul DJ Mr. Jonathan Toubin and, in the middle, a short dance contest determined by a community panel of judges. This NYC tradition since 2007 is also global recession-friendly mass entertainment with a universally inexpensive door price. Catch The Soul Clap!
"Rare record raconteur Jonathan Toubin returns to L.A. this Saturday to DJ one of his superlative Soul Clap and Dance Offs, in which you the dance-crazy people go even crazier than ever" (L.A. Record, 2016)
"Jonathan Toubin is seriously one of the best DJs on the planet." (Detroit Metro Times, 2015)
"Jonathan Toubin is the reigning king of the sweaty, non-stop super-fun dance party" (Paper Magazine, 2014)
"New York's suavest DJ" (Chronogram, 2013)
"A legend among Lower East Side entertainers and fans" (ABC News, 2012)
"Indeed, Toubin's 45 r.p.m. record-fueled, rock-and-soul heavy dance parties were some of the best, sweatiest nights we've had in this city." (Gothamist, 2011)
"Jonathan Toubin is the only person we can call a "professional DJ" without involuntarily making a jack-off motion with our hand... His parties are like what Ancient Stonehenge was like if it was, as archaeologists theorize, filled with people dressed many times better than you completely losing their shit." (VICE, 2010)
"I'm not one of the Schmucks who will lament over New York not being "what it used to be", but I will say that we're not fans of this dismal wasteland of Eurotrash tourists and guidos with polo shirts unbuttoned down to their navels grinding to the repetitive pounding of bad electro... Enter Jonathan Toubin, and his simple-yet-visionary approach to revamping the entire lanscape of New York and Brooklyn from midnight till the after hours. His New York Night Train parties have become stuff of sheer legend do to the simple fact that Toubin actually seems to care about what he is producing. His meticulous approach has paid off quite handsomely as pretty much each and every party with the Jonathan Toubin stamp on it seems to be the biggest party going on for that given night." (Impose Magazine, 2009)
"New York Night Train's Jonathan Toubin throws the raddest underground rock parties in New York" (Paper Magazine, 2008)
"A shimmy-worthy mix of maximum rock'n'soul" (New York Post, 2009)

"DJ Mr. Jonathan Toubin is known for single-handedly revamping NYC nightlife with his fun/sweaty New York Night Train Soul Clap dance parties" (Portland Mercury, 2010)
"Toubin is trying to bring a sense of community back to nightlife, fighting against the alienation that's seeped into cool culture. And if there's anyone who can do it, it's Toubin, soaked in charisma, honestly able to tout grandstand titles like America's Favorite Soul Dance DJ" (NY Press, 2011)
"To friends and fans, Mr. Toubin is the man behind New York Night Train, whose musical arsenal is made up of lesser-known artists from the 1950s and 1960s, captured on 45 r.p.m. records, with an occasional hit-maker like James Brown or Chuck Berry thrown in." (NY Times , 2012)
"Most DJs rely on hits and recognizable songs to keep the dance floor moving, but Toubin relies on quality." (Boston Phoenix, 2013)
"DJ and diety" (BlackBook, 2014)
"Jonathan Toubin is a local DJ with a penchant for two things: soul obscurities and making people move. He spreads his gospel by way of tireless sets at bars and clubs across the Lower East Side and Brooklyn, at which he'll host dance-offs, invite artists and other musicians to contribute to the merriment, and spin a heady blend of what he calls " Maximum Rock and Soul."... Expect even more music, dancing, and rambunctiousness than usual, knowing full well that "the usual" is already pretty hard to top." (The Onion A.V. Club, 2009)

"Jonathan Toubin might be the crown prince of American soul-funk DJs. Obsessed with obscure 45s from the '50s and '60s, the New York icon aims to produce the energy and pacing of a modern club night, but with gritty, raw tunes that almost no one except a few crazed collectors and spinners have heard before." (SF Weekly, 2012)

"DJ Jonathan Toubin is a hero to record snobs, barnstorming partiers, and entrepreneurs alike. His event imprint, New York Night Train, is based around fierce, lusty dancing and socializing that never resorts to stale music and fits like a glove with the finest in underground rock and soul. In his hands, an evolving collection of 7-inch singles from five decades ago becomes a splatter of sweat-soaked color and the catalyst for countless hearts skipping a beat simultaneously." (City Pages MInneapolis, 2012)

"The guy's energy and enthusiasm for soul-grinding sounds is truly infectious." (LA Weekly, 2012)

"A couple weeks back, I was at the awesome Beachland Ballroom in my hometown of Cleveland, Ohio, when I was lured into the venue's adjoining tavern by a throng so frenzied I thought Lady Gaga must have made an impromptu drop-by. Nope -- it was New York City DJ Jonathan Toubin, whose Soul Clap & Dance-Off has grown from its humble Brooklyn-underground beginnings to a national phenomenon. Armed with an exceptional collection of vintage soul and R&B 45s, Toubin has been crisscrossing the country, spinning tunes while dancers compete for the grand prize (in Nashville, $100). The scene in Cleveland was bonkers, as sweaty contestants -- identified by numbers on their backs -- writhed, squirmed, shimmied and bounced the night away, while onlookers cheered, laughed and gawked at the incredible display of flailing bodies." (Nashville Scene, 2011)
"Hip-shaking, head-bobbing beats" (Daily Candy, 2013)

"He spins nothing but 45-rpm records. He eradicates inhibitions. He induces mass hysteria. And sometimes, he even stuffs his vinyl into antique suitcases, gases up the Winnebago, and roadtrips to various American outposts of hipsterdom." (Miami New Times, 2011)

"Jonathan Toubin, the internationally famous DJ behind the New York Night Train parties, has built his career on a vast collection of obscure 45 rpm records and the "ultimate sonic boom" sound that they provide." (Lincoln Center for the Performing Arts, 2013)

"Jonathan Toubin grew up punk in Texas and learned some lasting lessons--like play hard, play fast, play loud and play with people's expectations. So when he started his own all-45s DJ night in New York City, he brought out something different than sweet Northern soul or slo-mo funky grooves. Instead, his New York Night Train Soul Clap Dance-Offs showcase the raw and wild soul 'n' roll that connects the r 'n' b shouters of the '50s and the hard-ass funk freaks of the '70s." (OC Weekly, 2011)

"Toubin is the most popular, prolific and highest-earning DJ of his kind in America" (Digital Journal, Toronto, 2012)

"The Austin-born, Brooklyn-based DJ Jonathan Toubin is known worldwide for his wild, sweaty, all-vinyl "Soul Clap" dance parties, which feature vintage and obscure soul and rhythm and blues sides scored from deep in the crates." (New Orleans Gambit, 2011)

"He's a vinyl junkie in the best sense; spinning unique and rare 1960s soul 45s exclusively, yet comes off as cool and unpretentious. Toubin has been changing the world, with one wild 45rpm banger at a time." (PBS Australia, 2014)

"On the New York club scene, no disc jockey is more boss than Toubin, whose Night Train dance parties make the faithful flock from the boroughs and beyond." (Connect Savannah, 2013)

"Toubin has been spinning his collection of poppin' Soul and R&B 45 rpms for six years, starting originally in the L.E.S. and ending up at festivals and clubs across the globe. Soul Clap is one of Toubin's babies. It's a party straight out of yesteryear, where the DJ is the spiffy emcee and the dance floor a hot mess of scuff marks and smiles. There is no booming bass, only throwback tunes and swinging hips. Toubin has redefined the modern dance party. Here, people groove with each other rather than submit to the glass enclosed DJ above." (The Villager, 2013)
"Toubin will delve deep into his finely honed collection of '50s and '60s soul and R&B - the grittier, the better - to help you get over the hump by shaking your rump." (Houston Press, 2009)

"Jonathan Toubin has long been a fixture in the New York City nightlife scene and these days he's host of the wildly popular New York Night Train." (MTV Hive, 2013)\

"The hottest 45s on earth." (Fast Forward Weekly Calgary 2013)

"Everybody's fantasy wedding DJ" (Impose, 2013)

Follow New York Night Train:
Twitter (https://twitter.com/NY_Night_Train),
Facebook (http://www.facebook.com/pages/New-York-Night-Train/47167209984)
join the mailing list: mailinglist - at - newyorknighttrain.com
Book Mr. Jonathan Toubin, the Soul Clap and Dance-Off, or any other NY Night Train party
in the United States contact Michelle Cable at Panache Booking
in Europe, contact Clemence Renaut at Elastic Artists: clemence@atc-live.com

Listen to Jonathan Toubin's NY Night Train Soul Clap Classics Vol. 3
Read Soul Clap/Jonathan Toubin press here.
Find Mr Jonathan Toubin's promotional pictures for print and online here.