RECIPES:
BILL WHITTEN'S BACHELOR STEW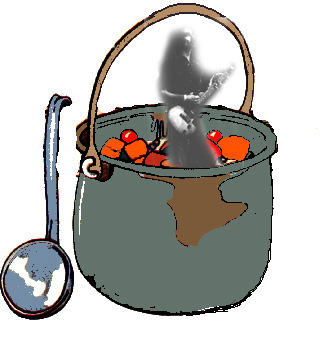 a healthy bachelor stew for the low-maintenance man(to be eaten every day for every meal). cheap and fairly tasty - entire cost 13$ (if purchased in the right neighborhoods of brooklyn)for 10 meals or so...
ingredients:
1 whole chicken (cooked)
2 1/2 cups brown rice
a bunch of carrots
a bunch of broccoli
1,2 or 3 bell peppers
8 oz organic plain yougurt
a slab of non-GMO tofu
a couple of large sweet potatoes
1 container of spicy hummus

instructions:
1. cook rice and vegetables, potatoes simultaneously in the biggest pot you own..
2. tear de-boned chicken into bite sized pieces, toss in after rice is cooked.
3. add humus, tofu...when the 'stew' is fully cooked throw in the yogurt.
4. stir...add lots of hot sauce...
eat at will...bring to work etc...
do not offer to women...they wont like it...
Go to Grand Mal feature home
Go to NYNT Recipe Archive