Grand Mal
Bad Timing
Arena Rock Recording Company, 2003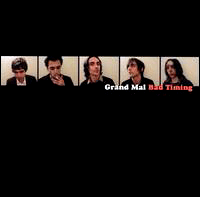 Dave Fridmann finally gave in to my constant petitioning and allowed us back to his studio for one more album. The band spent numerous weekends-from October 2001 to May 2002 racking up Greyhound Bus mileage shuttling between NYC and Fridmann's upstate New York TarBoxRoad Studios, recording and mixing Bad Timing.
The title track was inspired by a barroom conversation that I overheard (or dreamt I overheard) about someone wanting to quit rock and roll ("It's too late to cop out/too soon to dropout"). I think somewhere in the back of my mind it occurred to me that rock and roll might be killing me. The song "Disaster Film" articulates this fear.
"Baby, run for your life
your friends are gonna eat you alive
they're outta their minds on pills
their lives are like disaster films
they aint never gonna win no Nobel Prizes…"
But I was wrong of course. Rock and roll never killed anybody.
Ultimately Bad Timing was a response to Maledictions. Maledictions was filled with synthetic sounds and played by drug-addled people. On Bad Timing it was all organic sounds and it was the first recording that I had ever made sober.
Bad Timing features the leaner, meaner Grand Mal, including longtime members Steve Borgerding on guitar, Jonathan Toubin on bass, and Parker Kindred on drums and backing vocals. Stephen Drozd of the Flaming Lips who was living in Fredonia at the time added piano, organ, moog and slide guitar on four tracks. Fellow Lip Michael Ivins was the assistant engineer. Old friend and former Mercury Rev flutist Suzanne Thorpe contributed some nice Thick-as-a-Brickian touches. And our usual secret weapon Carmen Quinones added some soulful Exile on Main Street backing vocals. Members of Hopewell, the Silent League and The Fame also contributed.
This was easily G.Mal's finest album to date. A back to basics affair recorded at lightening speed. The Faces, and the Hoople were obvious touchstones – particularly evident in Borgerding's blues-based guitar bends and riffs. Most people have never heard it. Perhaps it will be re-issued some day. You never know.
Due to our low funds, a barter system was once again set up in order to compensate (theoretically at least) Dave for his time. It was arranged that the Mal would assist in constructing an addition to the Tarbox Studios. This addition would be the climate controlled tape storage room. Perhaps now, hammer in hand, I would finally be able to make a worthwhile contribution to the history of recorded music. I have fond memories of waking early one morning and unloading a truckload of lumber. And on another Steve Borgerding and I crawled under the studio and installed some nasty fiberglass insulation. I had to be careful to avoid breathing in the particles. Otherwise the vocals might not sound so good…. If you listen carefully you can hear the pounding of a hammer in the background of "Quicksilver" (no, it's not a homage to the Beach Boys' Smile). We managed not to destroy Tarbox or to mutilate ourselves too badly so it worked out.
TRACK LISTING
1. 1st Round Knockout MP3.
2. Bad Timing
3. Quicksilver
4. Old Fashioned
5. Disaster Film MP3
6. Duty Free
7. Get Lost
8. Flowin' Tide
9. Black Aura MP3
10. Lay Right Down
11. Steal It Back
CREDITS
Bill Whitten - vocals, guitar, keyboards
Steve Borgerding - guitar, bass, keyboards
Dave Fridman - piano, bass
Jonathan Toubin - keyboards, bass
Parker Kindred - drums, percussion, background vocals
Additional personnel:
J. Russo - guitar
Steven Drozd - slide guitar, piano, Mellotron, organ
Reno Bo - slide guitar, background vocals
James Beaudreau - slide guitar
Suzanne Thorpe - flute
Justin Russo - Hammond B-3 organ
Carmen Quinones - background vocals
Christina Calph - background vocals
Produced by Bill Whitten and Dave Fridmann.
Recorded at Tarbox Road Studios, Cassadaga, New York between October 2001 & May 2002.
Read more about this period in Grand Mal Mythology, Part 4 (2000 - 2002)
Return to Grand Mal Discography Home
Go to Grand Mal feature home