PART 1
1995 - 1996: the genesis of grand mal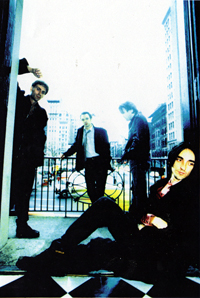 St Johnny
Grand Mal began in the summer of 1995 not long after Geffen Records severed their ties with St. Johnny, a Hartford band that formed in 1990 and quickly released a few 7"s on indie labels before Sonic Youth signed us to Geffen. Though the label offered advantages like tour support and great opening slots for cool bands, the advances were peanuts. They were so small that Jerry Jaffe, who was managing Jesus and Mary Chain at the time, told me:
In August 1995 I broke up St. Johnny and began playing with Jeff Mercel (the drummer/pianist for Mercury Rev). Only a couple of months later we found ourselves making the seven-plus hour drive from Manhattan to SUNY Fredonia to record with Dave Fridmann, who had previously produced Let it Come Down, St. Johnny's final album. The recording, which also features Carmen Quinones, came out on Terry Tolkin's label No. 6 Records.
I picked (while drunk) Grand Mal as the name for the band. I took it from the title of a St. Johnny song.
The easiest way to describe my initial concept for Grand Mal was to take inspiration from a certain strain of classic rock/proto-punk but not fall into the trap of bar-band impersonation…I figured this would be possible due to my limitations as a player and a singer and my, ahem, unique point of view as a young mal-content on the loose in the streets of NYC.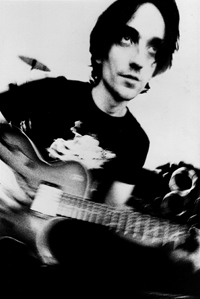 Early Grand Mal promo shot
One thing I learned from touring with St. Johnny was that people responded the most to the harder, faster songs…It seemed to me that brute force won out in a live setting (and also, My Bloody Valentine sounds terrible on a car radio, whereas "Roadhouse Blues" does not). So I figured I ought to 'rawk' out in a more effective fashion…Thus the lower pleasures once again held sway in my life...
I was a Millesian hedonist:
"Floating down Houston Street and the furies are after me/It's the type of night where I don't give a damn if the rent is paid, this life ain't so bad"
- from "Flyin' High"
Who the fuck knows what I was thinking?
I was listening to Lou Reed's Sally Can't Dance, John Cale's Fear, Johnny Thunders and the Heartbreakers' LAMF, and Spacemen 3's Perfect Prescription…
Music to destroy your life to, in other words.
Continue toGrand Mal Mythology Part 2 (1996 - 1997)
The skinny on Grand Mal's debut EP, MP3s, and more