S/T
No. 6 Records, 1996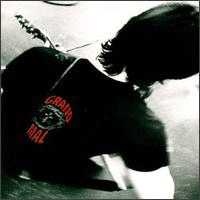 "Floating down Houston Street and the furies are after me
It's the type of night where I don't give a damn if the rent is paid, this life ain't so bad"
- from "Flyin' High"

Not long after I dissolved St. Johnny, in the Fall of 1995, Mercury Rev drummer/pianist Jeff Mercel and I found ourselves making the trek from Manhattan to SUNY Fredonia in Western New York, where Mercury Rev had recorded Yerself is Steam. Dave Fridmann, who had worked on Let it Come Down, St. Johnny's final album, produced and played bass and keyboards on the record. I played all the guitars. Carmen Quinones sang back-up vocals (she previously appeared on Let it Come Down and also on Mercury Rev's See You on the Other Side). The songs were recorded and mixed at break-neck speed; there was not much money and Dave was (as always) in great demand. He sandwiched G.Mal in between Verbena and Weezer sessions.
The recording came out on Terry Tolkin's label No. 6 Records.
J. Spacemen told me that he liked this EP. It was nice to hear. The tracks I like the best are "Crawling through the Glass" and "Flyin' High", "Hard to Beat."

TRACK LISTING
1. Hard to Beat MP3
2. Flying High MP3
3. Crawling Through The Glass
4. Kill Yer Pain
5. I Didn't Know
6. Don't Mean Nothin'

CREDITS
Bill Whitten - Guitar, Producer, Vocals
Carmen Luz Quiñones - Vocals
Dave Fridmann - Bass, Engineer, Piano, Producer
Grand Mal - Main Performer
Jeff Mercel - Drums
Nitin Vadukul - Photography
Pete Ciccone - Design
Recorded at Sweet Fish, Fredonia, New York.