Pleasure Is No Fun
No. 6 Records, 1997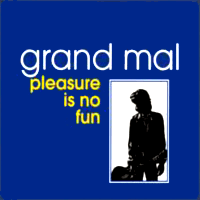 "Bill Whitten did great early-90's work with St. Johnny, and he's at it again with Grand Mal, whose sensational Pleasure Is No Fun CD was one of last year's best. Whitten's strengths with his band are pretty much the same as they were in St. Johnny: huge, bludgeoning hard-rock guitar nicely embellished by alienated-youth lyrics and indie-styled vocals. It's a tough combination to beat".
- New York Press March 4-10, 1998
Dave Fridmann once again was kind enough to produce/engineer a Grand Mal record for practically nothing. The band at this point consisted of Agitpop leader John DeVries, then of Cellophane, on lead guitar, St. Johnny drummer Thomas P. Goss, and moonlighting A&R guy Phil Schuster on bass. Mercury Rev's Grasshopper contributed guitar, back-up vocals and sound effects and Carmen Quinones returned to sing back-ups once more and even took the lead on one song, "Don't Be Late".
My girlfriend left me for a stand-up comedian while we were making the album. This added a certain frisson to the proceedings, or more likely a death-like pall.
This time we experimented with canned beats and John Devries played dub-style bass on a couple tracks ("Whole Lotta Nothin'" and "Blow Yer Nose").
My favorite songs are "Give Yourself to the Devil" and "Lucky Stiffs".
TRACK LISTING
1. I'm In Trouble
2. Give Yourself to the Devil MP3
3. Whole Lotta Nuthin'
4. Quittin' Time
5. Lucky Stiffs MP3
6. Light As A Feather
7. Superstars
8. Cold As A Donor
9. Blow Your Nose
10. The Thing To Do
11. Don't Be Late
CREDITS
John DeVries : Bass, Guitar, Guitar (Rhythm), Sound Effects, Vocals (Background)
Dave Fridmann : Keyboards, Vocals (Background)
Grasshopper : Guitar, Sound Effects, Vocals (Background)
Carmen Luz Quiñones : Vocals, Vocals (Background)
Phil Schuster : Guitar (Bass)
Bill Whitten : Guitar, Vocals, Production Credits
Pete Ciccone : Artwork
Dave Fridmann : Engineer, Producer
Recorded Jul 3, 1996-Aug 1996

Read more about this period in Grand Mal Mythology, Part 2 (1996 - 1997)
Return to Grand Mal Discography Home
Go to Grand Mal feature home