JUNE 1, 2006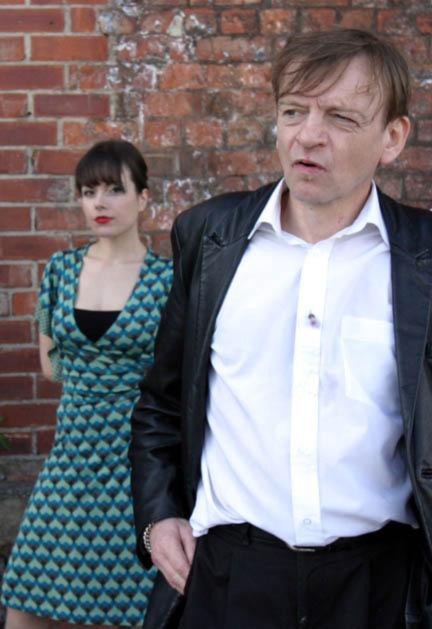 The Fall, Vaz - Knitting Factory Main Space $20/$22
I can't believe that The Fall aren't playing stadiums by now, or at least arenas, or at least Roseland, or Webster Hall, or Irving Plaza, or even the Bowery Ballroom. I heard that the Austin gig had a half-full room of around a hundred folks – and that's traditionally a Fall town. The Fall deserve much better. Not only that they're one of the last of the class of '77 that's been going all along, but, year after year, that they remain one of the best and most prolific bands out there. While it was difficult to find some of the records years ago, the last decade or so has seen dozens of Fall re-releases and new generations continue to flip over their music. This is classic rock. So why the small venues since the late 1990s?
Perhaps its because members of The Fall who are not named Mark E. Smith don't tend to last long in the organization. And that people are prejudiced against bands that don't include the players from their favorite albums. But anyone who's seen a few Fall lineups can attest that even some of the lesser configurations tend to still sound very much like The Fall – even when they play new songs. In fact, I think the lineup change is as much a part of the band's identity as the way Smith accents the last syllable of a phrase. Maybe people don't go because Smith is on edge, unpredictable, a loose canon liable to walk offstage or scream at someone – but isn't that what people want from rock'n'roll? God bless 'im.
This time, on their thirtieth anniversary tour, the entire group, sans Smith's wife, keyboardist Elena Poulou, quit after an altercation in Phoenix involving a banana peel hurled at the singer by a member of opening band The Talk. I don't think Mark E. Smith's band has up and left on the road since their infamous 1998 debacle – when even Smith went MIA. But not to fret, they assembled a new lineup without skipping a beat – so this version's been at it every night for almost a month.
Bombastic power duo-cum-trio Vaz, whose NYNT recommendation you can find here, will be leading off the festivities.
MEDIA
for a preview of tonight's performance, you can check out the entire May 26 Boulder show courtesy of Kwaya Na Kisser's blog:
Intro MP3
Assume MP3
Theme from Sparta FC MP3
Mountain Energei MP3
Pacifying Joint MP3
Wrong Place, Right Time MP3
What About Us? MP3
I Can See The Grass Grow MP3
Blindness MP3
Bo Doodak MP3
(encore)
Mr. Pharmacist MP3
A collection of John Peel Fall intros (MP3)
A 1982 Mark E. Smith Interview (MP3)
Fall videos on YourTube:
Kicker Conspiracy
Deadbeat Descendant
Cruiser's Creek
PsychoMafia/Industrial Estate
Lay of the Land
Bombast
Smile
Container Drivers
Victoria
Mark E. Smith on a sports show reading the football results
ALSO TONIGHT:
Andrea Parkins – Tonic 10PM $10
Cordero, Pistolera, Pete Murray - Mercury Lounge $10
Gruff Rhys, Jane Weaver & Wendy Flower, Voice of the Seven Woods – Tonic $12
Rogue Wave, Nicole Atkins - Southpaw $12
Teenage Prayers, Steve Shiffman and the Land of No, Furvis, and Imaginary Icons – Cake Shop
The Jamie Saft Blues Explosion – The Stone 8PM $10