June 7, 2005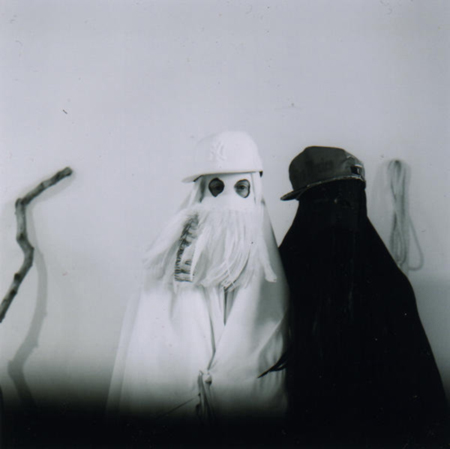 Metallic Falcons Record Release, Kid Congo and the Pink Monkey Birds, Nomi, Bow Ribbons – Tonic $3
Metallic Falcons is a new band consisting of Sierra Casady of CocoRosie and Matteah Baim from Voodoo-EROS. Tonight's show is to celebrate the 06.06.06 release (c'mon, everybody, it's 06.06.2006) of their debut record, Desert Doughnuts. The album includes guest appearances by Antony of Johnsons Fame, Devendra Banhart, Jana Hunter, and Greg Rogrove of Tarantula A.D.
While the mysterious duo look a bit like a couple of savvy urban siblings of Cousin It, their appearance is apparently the result of being "transspecied from desert falcons." Hence their spacious ethereal soundscapses, the dust blowing around the sunbaked surface under a wide night sky, and the hole in the middle.
Joining them will be underground guitar legend Kid Congo Powers, Voodoo-EROS' "Borough Gypsy" Nomi, and Bow Ribbons. This time the guitar legend Powers and his equally dangerous sidekick Jack Martin will be performing as a stripped-down version of Kid Congo and the Pink Monkey Birds, joined by another important figure in New York downtown music history, prolific powerhouse pounder John Fell (the 88th best drummer of all-time!).
Also, take note moochy lushes, the cover is only three bones and Tolkion's sponsorship will get ya free beer until 9:30… If I don't drink it all first…
MEDIA:
Metallic Falcons - two songs from Desert Doughnuts
Kid Congo and the Pink Monkey Birds, "History of French Cuisine" MP3
LINKS:
Metallic Falcons on Myspace
Voodoo-EROS
Kid Congo Powers
Kid Congo and the Pink Monkey Birds
Jack Martin
Nomi
ALSO:
David 'Honeyboy' Edwards & Robert Lockwood Jr. - B.B. King Blues Club & Grill $25
Eiffel Tower, Never The Nines - Maxwell's $6
Festival of Mixology - New and Unusual uses of Technology in Music and Intermedia Art: Keiko Uenishi a.k.a. o.blaat – Location One
James Mcmurtry, Willie Nile, Tim Easton – Bowery Ballroom $16
Pink Mountaintops, The Black Angels, Catfish Haven - Knitting Factory Main Space $10
Joan Jett & the Blackhearts – CBGB $20
Locksley, The Davenports, Joseph Francis Machine, Katamine - Fontana's $10
Johnny Thunders 15-year Memorial Tribute with Tuff Jeff Salen Band, Buddy Bowzer, Scheebo, Johnny Black, Rick Blaze, The Black Angels, Joy Ryder – Don Hills
Pearls & Brass, Endless Boogie, Nudity - Union Pool $7
Satoko Fujii Orchestra NY – The Stone 8PM and 10PM $10
Southern Culture on the Skids, Demolition String Band – Mercury Lounge $15
This Story, Kaiser Cartel, The Feverfew - Brooklyn Fireproof