June 8, 2006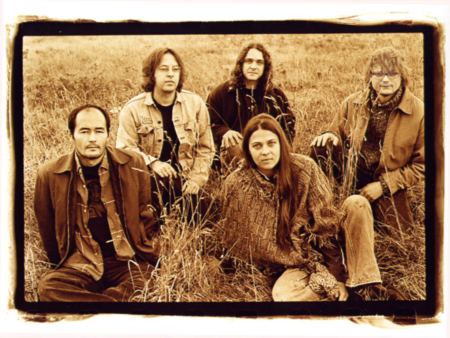 Bardo Pond, Holy Ghost, Winter Pageant - Mercury Lounge $10/$12
In the best of all possible worlds, I'd recommend the Godfather of Soul tonight. Not only one of the only undisputed living legends in contemporary culture and one of the most important figures in 20th Century music, James Brown is still, by all accounts, a fine performer. But if you're like me and have a hard time scrounging up eighty dollars, perhaps you should see Brown's polar opposite, Bardo Pond.
Psychedelphia's spaciest, Bardo Pond ain't funky, kinetic, or exciting. They are however meditative, droney, organic, and artful. They play beautifully together and the element that truly sets them apart from other jammers is their avant jazz approach to improvisation. The Pond's been improving upon their space-psych-Kraut-shoegazer hybrid since the late 1980s – making them trailblazers of sorts for the recent East Coast psyche scene. Undeterred since Matador let them go after one of their best albums, Dilate (2001), they soldiered on, releasing records on their own imprint at first and, now ATP. They continue to move and change at their own pace
While I once took a nap at one of their Todd P shows, it was a pleasant nod – but still something hard to do at a James Brown concert. On the other hand, the point of this whole blurb, which I keep losing track of, is that you go see Bardo Pond for the same reason that you watch James Brown - to get entranced by their modal build. Two separate paths to the same destination. Tonight should be particularly interesting as its Bardo Pond's first New York performance since one of the most soulful and explosive contemporary rock drummers joined the band - Jason Kourkounis of Delta 72, Hot Snakes, and a number of others.
See you out there…
MEDIA
AUDIO
A whole slew of complete live shows
"Moonshine" mp3
"Shadow Puppet" mp3
"Datura" mp3
"Inside" mp3
VIDEO
"Yellow Turban" Live 7/14/98, Bug Jar, Rochester - video (mov)
"Tommy Gun Angel" live 7/17/98, Mercury Lounge, NYC video (mov)
"4:15" video (mp4)
LINKS
Bardo Pond home
Bardo Pond ATP page
Bardo Pond Matador Records page
ALSO:
Demolition Doll Rods, Mighty Fine, Tough & Lovely - Trash $8
James Brown - B.B. King Blues Club & Grill $80/$85
Joan Jett and The Blackhearts, Roger Miret and the Disasters, Damone – Northsix $20
Joan Jett, The Blackhearts - Northsix $20
Measles Mumps Rubella - Union Pool
Festival of Mixology - New and Unusual uses of Technology in Music and Intermedia Art: Ron Kuivila & Ed Tomney – Location One
Jane Ira Bloom Quartet – Tonic 8PM $15
Mike Wexler, Damon McMahon, Essie Jain – Tonic $8
Cyro Baptista and Anthropo-Fagia – The Stone 8PM and 10PM $10
Pink Mountaintops, The Black Angels - Southpaw $10
Residual Echoes, Titan, Mammatus, Nudity – Cake Shop $7 (toddpnyc.com)
The Coup, Nuclear Family - Bowery Ballroom $15