Wednesday, June 14, 2006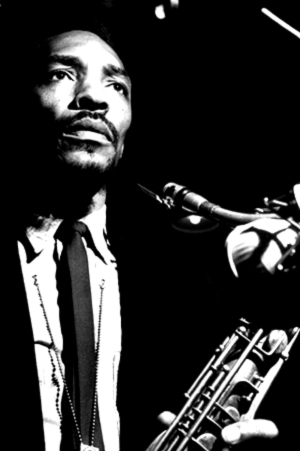 Tonight's Star: Sam Rivers
Vision Festival XI - Angel Orensanz Foundation for the Arts $25
If you step inside the Angel Orensanz Foundation for the Arts, that one-hundred-fifty year old synagogue on Norfolk, any evening this week, you will encounter a collection of the world's finest improvisers. This is the eleventh year that Art for Arts has sponsored the Vision Festival – the Lower East Side spectacle that may just be the finest annual contemporary music festival there is. Standing in direct contrast to the JVC fest, Vision is where you find the avant fare – esoteric music by unusual collections of the more daring masters of the international sonic avant garde.
Tonight's installment is dedicated to sax legend Sam Rivers – who will perform twice and be presented with a lifetime achievement award. Rivers, who was a member of the Miles Davis Quintet in 1964, cut a number of classic Blue Note discs throughout the 1960s, played a key role in the 1970s free jazz loft scene, helped innovate electric jazz in the 1980s, collaborated with Dizzy Gillespie for four years, explored orchestral jazz in the 1990s, and still hasn't abandoned the avant jazz world with his out there trio (with Anthony Cole and Doug Matthews). Tonight the octogenarian saxophonist goes on with his Orchestra at 7 PM and his trio at 10:30.
Two exciting performances, Grachan Moncur III Quartet and Warren Smith Ensemble, will go down between Rivers' sets. Grachan Moncur III is one of modern jazz's finest trombonists. He's the one you hear on the classic Wayne Shorter, Herbie Hancock, and Jackie McLean Blue Note sessions, He's also kept a foot in the free jazz door – working with Archie Shepp, Butch Morris, Dave Burrell and others. Like Henry Grimes he disappeared for years and recently resurfaced - chops intact. Percussionist and composer Warren Smith, who worked with Rivers and many others, is also known for his M'Boom Re: Percussion ensemble with Max Roach and for running one of the earliest and most important downtown performance lofts – Studio WIS. Tonight he appears with a quartet of avant stars that includes Andrew Lamb, Roy Campbell, Jaribu Shahid, andHoward Johnson.
The rest of the week continues with the likes of Roscoe Mitchell (!), Rashied Ali, Matthew Shipp, Henry Grimes, Dave Burrell, Reggie Workman, David S. Ware, Bill Dixon, George Lewis, and dozens more – with multiple appearances by William Parker, Roy Campbell, and Hamid Drake.
This is why one lives in New York in the first place...
Here's the full schedule:
Tuesday, June 13
06:30 Opening Invocation: David Budbill, William Parker, Joseph Jarman, Hamid Drake, Patricia Nicholson
07:00 Raphe Malik Tribute Band: Sabir Mateen (rds), Marshall Allen (rds), Roy Campbell (trpt), Lewis Barnes (trpt), Dave Burrell (pno), William Parker (bs), Warren Smith (dr)
08:00 Klaas Hekman Trio: Klaas Hekman (bass sax), Fred Lonberg-Holm (cello), Veryan Weston (pno)
09:00 Borah Bergman (pno), William Parker (bs), Rashied Ali (dr)
10:00 Dave Burrell (pno), Billy Martin (dr)
Wednesday, June 14 - Sam Rivers Lifetime Achievement
07:00 Sam Rivers' Rivbea Orchestra: Sam Rivers (tenor and soprano saxophone, flute, piano, voice, compositions), Doug Mathews (bass), Anthony Cole (drums), Brian Mackie (bari saxophone), Daniel Jordan (alto saxophone), Chris Charles (alto saxophone), Jeff Rupert (tenor saxophone), David Pate (tenor saxophone), Mike Iapichino (trumpet), Tom Parmerter (trumpet), Brian Scanlon (trumpet), Dave Jones (trumpet), Keith Oshiro (trombone), David Sheffield (trombone), Joe King (trombone), Joshua Parsons (tuba)
08:30 Grachan Moncur III Quartet: Grachan Moncur III (tmb), Calvin Hill (bs), Noriko Kamo (pno), Richard Pearson (dr); Special Guests: Khan Jamal (vibes) and Byard Lancaster (tnr sax)
09:30 Warren Smith Ensemble: Warren Smith (dr) Andrew Lamb (tnr sax, flute), Roy Campbell (trpt), Jaribu Shahid (bs), Howard Johnson (tuba)
10:30 Sam Rivers Trio: Sam Rivers (tenor, alto & soprano sax, piano, flute), Doug Mathews (bass, bass clarinet), Anthony Cole (percussion, tenor sax, piano)
Thursday, June 15
07:00 Paul Rutherford (tmb), Torsten Muller (bs), Dylan van der Schyff (dr)
08:00 Coltrane Tribute Band: Roy Campbell (trpt), Louis Belogenis (rds), Andrew Bemkey (pno), Reggie Workman (bs), Rashied Ali (dr) plus Steve Dalachinsky (poet)
09:00 Maria Naidu (dance), Dennis Gonzalez (trumpet)
09:30 Day & Taxi: Christoph Gallio (sop sax), Christian Weber (bs), Michael Griener (dr)
10:30 Bill Dixon (trpt), George Lewis (tmb, elec): Videosonic Projections
Friday, June 16
05:00 PANEL DISCUSSION - NYC Community Based Organizing: What's Wrong in Gotham?
07:00 Donald Byrd Spectrum Dance Theater featuring Danielle Wilkins and Julia Wilkins dance and Hamid Drake percussion
07:30 Bindu: Hamid Drake (dr), Sabir Mateen (rds), Daniel Carter (rds, trpt), Greg Ward (alto sax), Ernest Dawkins (tnr sax)
08:30 Rob Brown Quartet: Rob Brown (alto sax), Craig Taborn (pno), William Parker (bs), Gerald Cleaver (dr)
09:30 Billy Bang Quintet: Billy Bang (vln), James Zollar (trpt), Andrew Bemkey (pno), Todd Nicholson (bs), Newman Taylor Baker (dr)
10:30 Henry Grimes (bs), Sekou Sundiata (poet)
12:00 Vision Festival / JazzCorner.com present: VISION FESTIVAL XI AFTERPARTY at Mo Pitkins House of Satisfaction (34 Avenue A btwn 2nd & 3rd Streets) Featuring a performance by Dennis Gonzalez' Yells At Eels: Dennis Gonzalez (tpt), Aaron Gonzalez (bs), Stefan Gonzalez (dr) + many special Vision guests. $5 with Friday night Vision Festival hand stamp, $10 all others
Saturday Afternoon, June 17 - The New Generation
01:00 Ras And The Music Now Unit: Ras Moshe (rds), Matt Lavelle (trpt, bs clarinet), Tor Yochai Snyder (gtr), Matt Heyner (bs), Todd Nicholson (bs), Jackson Krall (dr)
02:00 Yusuke Yamamoto Duo with Ben Monder: Yusuke Yamamoto (vibes, perc, electronics), Ben Monder (gtr)
03:00 Matana Roberts' Mississippi Moonchile: Matana Roberts (rds), Matt Bauder (tnr sax), Thomson Kneeland (bs), Tomas Fujiwara (dr), Tyshawn Sorey (pno)
04:00 Lafayette Gilchrist (pno) / Hamid Drake (dr)
Saturday Evening, June 17
05:00 PANEL DISCUSSION - New Orleans 2006: Understanding and responding
07:00 Slammin' The Infinite: Steve Swell (tmb), Sabir Mateen (rds), Matthew Heyner (bs), Klaus Kugel (dr), John Blum (pno)
08:00 Roscoe Mitchell Quartet: Roscoe Mitchell (rds), Corey Wilkes (trpt), Harrison Bankhead (bs), Vincent Davis (dr)
09:00 Joe Morris (gtr), Barre Phillips (bs)
10:00 Jason Kao Hwang's Edge: Jason Kao Hwang (vln), Taylor Ho Bynum (cornet), Ken Filiano (bs), Andrew Drury (dr)
11:00 By Any Means: Charles Gayle (tnr sax), William Parker (bs), Rashied Ali (dr)
Sunday Early Evening, June 18
03:00 PANEL DISCUSSION - Artist-Organized Presentations in Jazz: 1970 to 2006 and Beyond
05:00 Miya Masaoka (koto, electronics), Silvie Courvoisier (pno), Peggy Lee (cello)
06:00 Kidd Jordan (tnr sax), Joel Futterman (pno), William Parker (bs), Alvin Fielder (dr)
07:00 Patricia Nicholson (dance), Hamid Drake (perc), William Parker (bs and sintir), Jo Wood Brown (visual artist)
08:00 Whit Dickey Trio: Whit Dickey (dr), Daniel Levin (cello), Matt Moran (vibes)
09:00 David S. Ware Quartet (Final US Performance): David S. Ware (tnr sax), Matthew Shipp (pno), William Parker (bs), Guillermo E.Brown (dr)
ALSO TONIGHT:
Arctic Monkeys, We Are Scientists -Roseland Ballroom $25
Bellmer Dolls, Woman, United States - Union Pool (toddpnyc.com)
Club d'Elf with John Medeski – Tonic 10 PM and MIDNIGHT $12/$15
Forward, Russia!, Holy Fuck, The Rinse - Mercury Lounge $12
Ministry, Revolting Cocks – BB King Blues Club $45
O'Death - Pete's Candy Store FREE
Princess Superstar, DJ Alexander Technique, the Ones - Happy Valley
Radiohead , The Black Keys - Madison Square Garden Theater $54
Ralph Stanley - Rockefeller Park
Rufus Wainwright – Carnegie Hall $45
Shelley Hirsch – The Stone 10 PM $10
Shoko Nagai's Ephemeral – The Stone 8 PM $10
Skullening – Goodbye Blue Monday
Tetuzi Akiyama, Loren Connors Duo plus Tetuzi Akiyama Solo – Tonic 8 PM $10
Trachtenburg Family Slideshow Players - Mo Pitkins $15