June 15, 2006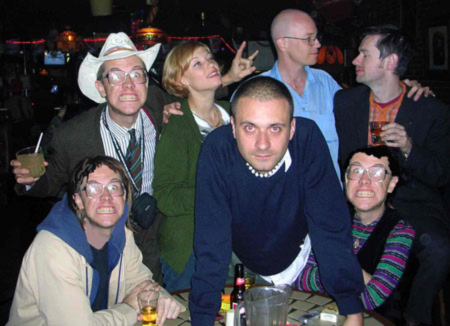 Country Teasers, Excepter, Pterodactyl - Tonic 10PM $8
I'm thrilled to see the Country Teasers return to the states to find themselves on such a fine bill. While you can't always understand the lyrics live, Ben Waller is pretty much an angrier misanthropic Scottish Mark E. Smith… and much funnier. And you'll never be able to decide where his sarcasm ends and what he actually believes because you'll get lost in how hard his road band flat-out burns – particularly because of the significant talents of Waller's doppelganger, American guitarist Robert McNiell. Capable of a tender twangy ballad, but more at home with riff-based razor blade-strewn grime, the Teasers are your ticket. NYNT favorites Excepter are ex-No Neck John Fell Ryan's prolific improvising electronic band. Pterodactyl create an artful, precise and heavy racket. So there you have it – twang, pulse, and bombast – all on one bill. Viva Alan Licht and Tonic…

Maceo Parker – Prospect Park Bandshell FREE
Maceo!!! Take me to the bridge! This guy's been on the jam band circuit for so long that you forget that he's sould brutha number two - a complete badass to say the least. And the weather's looking fine for tonight...

Nu Jazz Today! Charlie Hunter & Bobby Previte with special guests Elliott Sharp as Groundtruther, Matthew Shipp, Nils Petter Molvaer, Sex Mob. – Central Park Summer Stage FREE
How often do you get to see such an eclectic and accomplished collection of world class avant jazzers for free? And during Vision fest? Pace yourself. Too much of a good thing... speaking of which...

VisionFest2006:
07:00 Paul Rutherford (tmb), Torsten Muller (bs), Dylan van der Schyff (dr)
08:00 Coltrane Tribute Band: Roy Campbell (trpt), Louis Belogenis (rds), Andrew Bemkey (pno), Reggie Workman (bs), Rashied Ali (dr) plus Steve Dalachinsky (poet)
09:00 Maria Naidu (dance), Dennis Gonzalez (trumpet)
09:30 Day & Taxi: Christoph Gallio (sop sax), Christian Weber (bs), Michael Griener (dr)
10:30 Bill Dixon (trpt), George Lewis (tmb, elec): Videosonic Projections
Angel Orensanz Foundation Center for the Arts (172 Norfolk Street) http://www.orensanz.org/
...speaking of which, another unreal night at Vision. Highlight's include a Coltrane tribute chock full o'staris including two members of Trane's band, legends Reggie Workman and Rashied Ali. And, in what promises to be one of the most exciting sets of a very exciting week, Bill Dixon will go at it with George Lewis - two of the most creative musical minds out there - both as much heavyweight academics as musicians.

ALSO TONIGHT:
A Place to Bury Strangers, Kill The Lights, Land of Talk - Union Pool $7 FREE
Chinese Stars, Vaz, Shy Child - Club Midway $7
David Watson Collective Improvisation – The Stone 10 PM $10
Joey Baron – The Stone 8 PM $10
Milena Mepris plus Eskimobot vs. the Invisibles – Tonic 8 PM$8
Skeletons and the Kings of All Cities, Emergency Party, Bring Back the Guns – Cake Shop $6
Special Guests, Proton Proton, Unisex Salon, The Prix - The Delancey FREE
The Bottle Rockets, Bobby Bare Jr - Maxwell's $10
The Juan Maclean - Rocks Off Concert Cruises $25/$30
The Shorebirds, West - Trash $6