June 20, 2006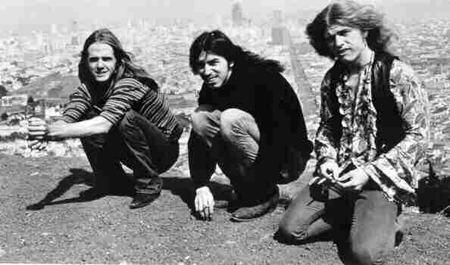 Blue Cheer back in the day
Blue Cheer, The Black Hollies – CBGB $20
Without a doubt the thing to do tonight's gotta be the mighty Blue Cheer, creators of one of the 1960s fuzziest and most brutal records, the mighty and timeless Vincebus Eruptum (you should hear the original mono vinyl with the textured cover if you haven't), and its follow-up, the under-appreciated Outside Inside. I have no idea why one of the best-loved bands in heavy rock history, and one of the few that still gets consistent rotation on subcultural turntables, hasn't connected with this audience before.
Perhaps they weren't aware of their impact on underground rock? Apparently Blue Cheer, featuring the lone constant member bassist/vocalist Dickie Peterson, after originally calling it quits in 1971, have been performing regularly since reforming in 1979 - going at it in backwater towns, Japan, and various reunion circuits for some time now. They even quietly recorded a number of albums in the mid-1980s and early 1990s, the most recent of which was a live Japanese record from a few years ago. Guitarist Andrew 'Duck' Mac Donald's been in the fold for the last couple of years and, in the last few months, original drummer Paul Whaley got back into the groove – thereby making this a legitimate reunion of sorts. It appears that they're doing all kinds of Pitchforky things, playing the underground rock circuit, and publicly getting the recognition that they've had all along in college radio shows, rock DJ nights, and living rooms - somehow it just never came together until now. And reports've thusfar been excellent…
The Black Hollies, the soulful sixties-informed band that features members of the Rye Coalition, kick it all off.
Another rare reason to go to give a final visit CB's before it closes.

LINKS:
Blue Cheer Myspce page
Amazing Perfect Sound Forever Blue Cheer article
Blue Cheer message board

ALSO TONIGHT:
Adventures in Nightlife, USAISAMONSTER, Animental, Cloud Speaker, DJ Jazzy Jess – Place (toddpnyc.com) $6
Alan Licht -The Stone 8 PM $10
Aretha Franklin – The Apollo $77
Assif Tsahar, Cooper Moore & Chad Taylor – Tonic 10PM $10
Beirut, Lonesome Doves, Elephant Parade - Northsix $10
Baby Gramps – Zebulon FREE
David Bazan - Southpaw $10
Dub is a Weapon, DJ President Carter, Fire of Space - Knitting Factory Old Office $8
Ex-Lion Tamer – Trash
JVC Jazz Festival: Ladies Sing The Blues: Etta James & Susan Tedeschi - Carnegie Hall $35 - $85
Raz Mesinai -The Stone 10 PM $10
Rob Reddy Quintet – Tonic 8PM $12
Son Volt - World Financial Center Plaza FREE
The Legendary Pink Dots, Beat the Devil - Knitting Factory Main Space $15/$18
Tom Petty and the Heartbreakers – Madison Square Garden $45
White Magic, First Nation - Cake Shop $6
Wooden Wand and The Vanishing Voice, Religious Knives, Watersports - Union Pool(toddpnyc.com)