June 21, 2006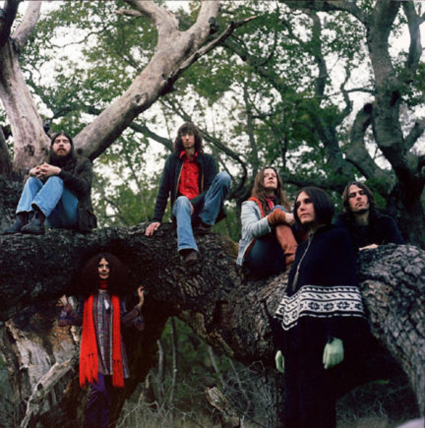 The magnificent Espers. Yet another promo shot taken in the forrest. South Philly?
Brightblack Morning Light, Espers - Southpaw $10
Didja see the big Sunday New York Times spread, "Summer of Love Redux"?
Everybody's getting in the act…
And not only the Times. Tonight we have classic indie labels Drag City and Matador's representatives of the contemporary post-hippie scene that's often referred to as weird America or freak folk or weird beard or whatever…
Brightblack, after being prodded along a bit by Will Oldham, have a new self-titled record of their own as Brightblack Morning Light - as Matador's token band of this scene. It's a bit more straightforward and Southern than the work of their contemporaries (they're from Alabama) and, organ and electric guitar based, seems to be some of the only music from this particular scene that has a slight connection with the sort of older Dead-informed Phishier food from a generation before. They have all kinds of press material emphasizing that they live in tents and cabins in northern California, sing about (surprise) Native American themes (apparently they also have some o' that lost somewhere in their blood), and songs with titles like "We Share Our Blanket With the Owl." Despite how trendy and obvious a lot of this is, and its unadventurous, rather pedestrian quality (which makes me imagine Brightblack will become the most popular of the bunch), they're not by any means bad. But the image, the words, and the entire vibe is just a bit hard to stomach – particularly now.
As opposed to the once-great Matador, with their current singular representation of every trend in sight, Drag City has made some more substantial choices – including some of the better bands from the fringes of the scene – the mind-blowing masterful maverick Ben Chasny' Six Organs of Admittance, whose new The Sun Awakens may be the best of their impressive catalog, and, of course, Espers. These Philadelphians have slowly become one of my favorites as they've developed a deeper darker more dynamic sound. Their latest, Espers II, one of the most compelling releases by anyone this year, takes the Incredible String Band/Fairport-informed contemporary fare (or fair, as in Renaissance) to the next level. Lonely echoes of the ghosts of ancient Celtic folk songs haunting the gray haze of Harry B. Smith's rocky American hills – spacious and cinematic, with plenty of distortion, drone, and dissonant instrumental arrangements to locate it in the 21st Century, and, of course their trademark eerie vocal harmonies. Perfect music to be quietly and brutally murdered in the middle of nowhere to – the sound of the new Deliverance.

MEDIA:
Espers, "Dead King" MP3
Espers, "Dead Queen" MP3
Espers, "Widow's Weed" MP3
Espers, "Cruel Storm" MP3
Brightblack Morning Light, "Everybody Daylight" MP3

ALSO TONIGHT:
Aretha Franklin – The Apollo $77
David Bazan - Maxwell's 7PM $10
David Garland -The Stone 8 PM $10
Elliot Sharpe, O/O (Awesome Jon and Richard (sightings) + Rebecca) - PS1 5 PM FREE
Gomez, Martha Wainwright - Webster Hall $25
Gutbucket, Jerseyband – Tonic 8PM $10
JVC Jazz Festival: Brazil Nights I: Choro Ensemble - Jazz Standard $25
Klezmer Meets Brazil!': Gustavo Bulgach & Ze Luis Oliveira – Makor $12
Morningwood, Rock Kills Kid - Warsaw $15
Scott Amendola, Charlie Hunter – Tonic 11PM $12/$15
Seemless, Brand New Sin, The Knives - Maxwell's 9PM $8
The Mendoza Line, Jennifer O'Connor, The Anthem, Choo Choo La Rouge - Sin-e $8
Trachtenburg Family Slideshow Players - Mo Pitkins $15 Nanuchka, Itamar Ziegler, Sara Alden, Franz Nicolay, Pete Hess, Jack Terricloth - Northsix $5/$7d
Tremolo of Joy -The Stone 10 PM $10