June 29, 2006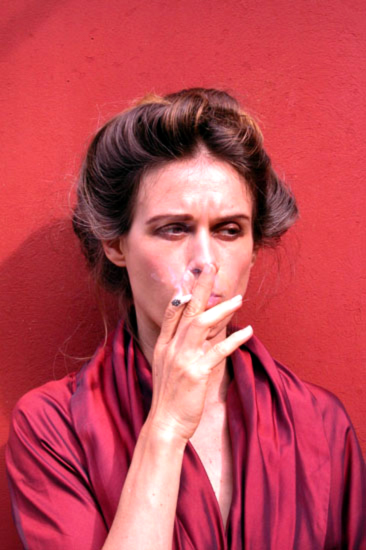 Juana Molina
Jose Gonzalez, Juana Molina, Psapp - Bowery Ballroom $20
Tonight isn't gonna be easy. The intense vocal performances of Diamanda Galás have always been unparalleled. Marc Ribot is one of my favorite musicians to ever pick up a guitar. Tim Berne and Okkyung Lee, though from relatively different sides of the spectrum, are two of the more fascinating and prolific improvising composers going. And Fiery Furnaces, who I write disproportionately about, are one of the more unusual and ambitious pop bands to come around in recent years. But tonight the most interesting bill is the rather adulty international one at the Bowery Ballroom – featuring three acts that are all relatively new to me.
The headliner, Jose Gonzalez, is Swedish Argentine troubadour who emerged in the last year or so, is currently riding an unprecedented wave of UK success to America. The better stuff is the eerie skeletal songs built by immaculate picking and sparse vocals. Of course someone with my taste feels uncomfortable treading in certain places in almost every acoustic singer/songwriter's repertoire. But this guy's about as good as it gets.
Juana Molina is another Argentine acoustic guitar-strumming vocalist – who actually resides in Argentina. A successful comedian with her own TV show in the Spanish-speaking world, Molina writes, produces, and records elegant electro-acoustic records where subtle loops, synths, and exotic instruments conjure shades of ambience under her rhythmic guitar work and gorgeous voice that's a more distinctive contemporary take on everything you've always sought out in a soft bossa nova vocal delivery. If this sounds like your cup of tea, I highly recommend her new record Son.
I'm still on the fence about the opener, Psapp, a quirky London duo that play giddy yet elaborate compositions. What I've heard so far is a bit cornball and twee for my personal taste, but that seems to be what they're going for in the first place. Plus, their music is neither boring or unrespectable.
Either way, this is an ideal way to catch up on three unique voices from around the globe with very little effort on your part.
MEDIA
VIDEOS
Jose Gonzalez, "Stay In the Shade" MOV
Juana Molina, "Sombras" MOV
Juana Molina, "Vias" MOV
Psapp, "About Fun" MOV
SOUNDS
Jose Gonzalez, "Stay In the Shade" MP3
Juana Molina, "No Es Tan Cierto" MP3
Juana Molina, "Tres Cosas" MP3
Psapp, "Tricylcle" MP3
LIVE
Aloke, Americans, Right on Dynamite, No One & The Somebodies - Northsix $10
Diamanda Galás - Joe's Pub $30
Dirty on Purpose, Say Hi To Your Mom, The Little Ones, A Place to Bury Strangers - Mercury Lounge $10$12d
Fred Wesley – The Iridium $30
Land of Talk, Tokyo Police Club, The Ballet, DJ Ramesh from Voxtrot – 98 Ingraham (toddpnyc.com) $8
Mancino, The Isles, Secret Life of Sofia - Sin-e $10
Marc Ribot's Ceramic Dog – Tonic $12
Okkyung Lee – The Stone 8PM $10
Paul Motian Band - Village Vanguard
The Feverfew, Baby Calander, La Pieta – Cake Shop
The Fiery Furnaces, Man Man, Standing Nudes - Webster Hall $20
Tim Berne – The Stone 10PM $10
We Are Scientists, The Double, Au Revoir Simone - Warsaw $16.50