July 4, 2006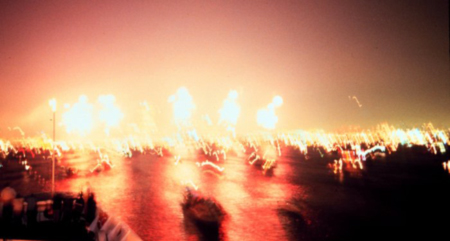 While there're folks who believe Independence Day is about nationalism and flags, you and I both know that its about celebrating the finer parts of our culture - beer, junk food, fireworks, and, of course, rock'n'roll. The most New York thing you can do for the 4th, as with any other holiday, is of course get the hell out of dodge. But, if you can't do that, the occasional Parks Department rock events have certainly been worthwhile over the years, and if Belle and Sebastian is your cup of tea, this year at Battery Park is no different. But the second-most New York thing you can do for the 4th outside of leaving it, is of course getting down with the roof parties. The private ones are typically where it's at - but there're also always a few good makeshift shows with decent views of one of the world's most opulent fireworks displays.
One of the best bets this year appears to once again be Casey's (who put on the Domino Sugar Factory parties the last couple of years). He's got Austin's Voxtrot headlining with a rare appearance by local psychedelic popsters, The Occasion. Then there's a whole list of singer/songwriters - Animal Collective producer/accomplished and distinctive artist Rusty Santos, Astralwerks' Damon McMahon of Inouk fame, Social Registry's folk-blues hero TK Webb, and young folk prodigy Zachary Cale. They'll all be up on the roof of 57 Thames St starting at 3PM. The other is Todd P's on the roof of 330 Melrose Street for a Common Ground benefit featuring a couple of the usual Load-y suspects and more: Japanther, Parts and Labor, Pterodactyl, Matt and Kim, Battleship, Knyfe Hyts, The Deathset, and Necking. Perhaps the loudest way to celebrate the hottest of holidays.
Finally, after the fireworks there's plenty to do indoors, including the sweat of the Slavic Soul Party! at Barbes, The Vandelles and A Place to Bury Strangers at Union Pool, and Kerry Davis of the Red Aunts extraordinary solo project Two Tears, Winning Looks, and The Hit at Cake Shop.
And be careful who and what you drop over the ledge. Here's the rundown...
Belle & Sebastian – Battery Park
Boswijck: Music in the Town of the Woods: Voxtrot, The Occasion, Rusty Santos, Damon McMahon, TK Webb, Zachary Cale - 57 Thames St 3PM $15
Common Ground Benefit w/Japanther, Parts and Labor, Pterodactyl, Matt and Kim, Battleship, Knyfe Hyts, The Deathset, Necking- 330 Melrose Street 4PM $8/$12
Slavic Soul Party! - Barbes
The Vandelles, A Place to Bury Strangers – Union Pool $5
Two Tears, Winning Looks, The Hit – Cake Shop $3