July 7, 2006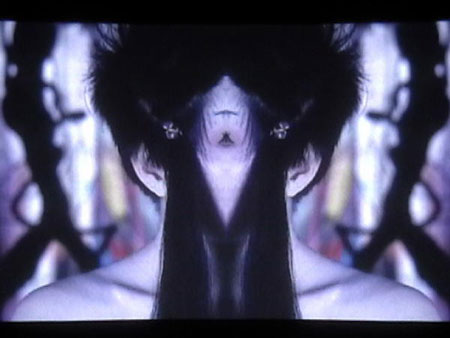 Electroputas, Messages - Tonic MIDNIGHT $5
Tonic's Friday midnight shows, curated by The Social Registry's Rich Zerbo, have, of late, consistently feature the better bands from the ethereal underbelly of New York's music scene. This week is no exception. Out of all of the members of the new Social Registry scene, Electroputas have been around the longest. Co-conspirators, performers, and regulars at the much-missed monthly multimedia +/- years ago, and regular performers of long-gone venues such as The Cooler, the trio's members are more than merely fixtures in the local underground – but have actively taken a role in developing the scene (how long has it been since you heard that word) since much less hopeful times. Together drummer Jaiko Suzuki, bassist Akio Mokuno, and guitarist Joe Frivaldi create a hybrid sound that at once reflects both their diverse backgrounds and downtown culture in general. The Kraut rock influence isn't subtle, but, unlike most of the recent crop of Can-isters, the Putas sound still retains the residue of the cacophonous no-wave that defined their work early on, as well as an assortment of psyche, free, experimental, tribal, and classic soundtrack elements. Messages is the "ambient come industrial house inspired project" of Takedo Shimada of Tellus Tools and Tres Warren of Psychic Ills.

White Magic, Juana Molina, Mike Wexler - South Street Seaport 7PM FREE
Also if you're not doing anything early, there's a great show at South Street Seaport. Drag City's White Magic is a duo featuring beautiful voice and quirky yet elegant songs of Quix*o*tic's Mira Billotte. Juana Molina is a charismatic Argentine composer/musician (and comedian on the side), who last week did a wondrous job of creating densely layered compositions in front of your eyes via a combination of first-rate vocals and guitar work and the miracle of modern sampling. And Mike Wexler, who I'm surprised isn't famous by now, is one of the best songwriters and vocalists of the entire new folk movement.

MEDIA:
Electroputas, "Star Soul" M4A
Electroputas, "Never Been More In Love" M4A
Electroputas, "Pianoblooms" MP3
White Magic, "Keeping Wolves From the Door" MP3
Juana Molina, "No Es Tan Cierto" MP3
Juana Molina, "Tres Cosas" MP3
Mike Wexler, "Sound the Mirror" MP3

ALSO TONIGHT:
4Five6 - Eight Decades of Experimental Films & Music – The Stone 8PM $10
Acid House Kings,White Rabbit, Mixel Pixel, The Legends, Ivy League – Cake Shop $8
Anthony Pateras - Continuums & Chasms – The Stone 10PM $10
Camera Obscura, Georgie James - Bowery Ballroom $15.50
Die! Die! Die!, The Flesh, Excellent - Tonic 8PM $8
Groundtruther featuring Charlie Hunter & Bobby Previte – Knitting Factory Tap bar $12/$15
Growing, Cloudland Canyon, Lichens, UW Owl – 718 Diner
Les Sans Culottes - Magnetic Field
Marina Rosenfeld, John King – ISSUE Project Room $10
Meneguar, United States, S-S-S-Spectres, Hoover Flags - Cake Shop $6
Mouthus, Coughs, Jon & Richard from Sightings, Bret Gand Is Dead – Goodby Blue Monday
Schwervon, Dream Bitches, John Bollinger – Union Pool $5
Shearwater, The Court and Spark, Langhorne Slim, Dawn Landes -Mercury Lounge $10
The Beatings, Strikes Again - Club Midway $5