July 14, 2006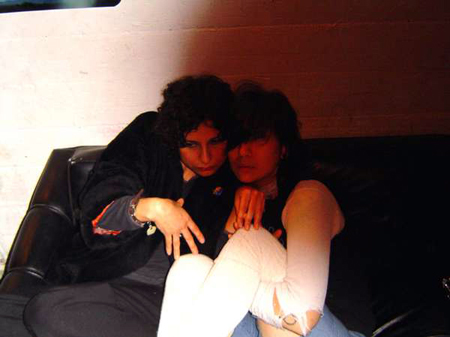 Carla Bozulich's Evangelista, The Dead Science – Knitting Factory $10/$12

What better way to celebrate Bastille Day than to witness one of the worlds' foremost chanteuses? Carla Bozulich is an uncommonly creative, intense, and prolific musician who, despite the nearly unanimous enthusiastic admiration of critics and musical peers, has never really achieved the notoriety she deserves. With a powerful and dynamic voice that whispers and wails in darkness like nobody on this side of Diamanda, Bozulich is a stylist, gymnast, and performer without parallel. You may remember her from early-1990s industrial group Ethyl Meatplow, mid-1990s gothic Americana of Geraldine Fibbers, or her late-1990s ambitiously ethereal collaboration with guitar hero Nels Cline, Scarnella. She recorded her first solo album, a personal reinvention of Willie Nelson's Red Headed Stranger, featuring the red headed stranger himself, a few years back. Her current album, Evangelista, again showcasing the unmistakable and inventive work of Cline, as well as members of Silver Mt. Zion, Godspeed You Black Emperor!, and others, continues in the experimental tradition of Scarnella - but for my money is equally more coherent and varied (and I liked Scarnella). You'll be shocked and amazed at how this natural wonder and fine artist achieves her recorded feats in front of your face. Utterly heartstopping.
Get there early for the power of Seattle's Dead Science - another fine example of hyper- musical post-modern contemporary west coast darkness.
Tomorrow, why Siren Festival sucks more than ever...
MEDIA
Carla Bozulich, songs from Evangelista available on her myspace page
Carla Bozulich, "Masters of War" MP3
Carla Bozulich, "Lonesome Roads" MP3
Carla Bozulich, "Blue Eyes Crying In the Rain" MP3
Carla Bozulich, "On the Nickel" MP3
Scarnella, "Northwest" MP3
Geraldine Fibbers, "Toybox" MP3
Geraldine Fibbers, "Dwarf Song" MP3
Dead Science, "Drrrty Magneto" MP3
Dead Science, "Ossuary" MP3
Dead Science, "Gamma Knife" MP3
Dead Scienc, "Batty" MP3
Dead Science, "White Train" MP3
Dead Science, "Threnody" MP3

ALSO TONIGHT:
andrew neumann + joe morris & thomas buckner + bruce Arnold – ISSUE Project Room $10
Devin Hoff and Guests– The Stone 8PM $10
Disnihil, Terror Level Red, Surroundings, Wasteland DC – Northsix $7
E.U.D. (with Liz Bougatsos of Gang Gang Dance) plus Growing – Tonic MIDNIGHT $5
Easy Action, Saint Bastard, Oliver North - Club Midway $8
FULL FORCE: The new rock complexity (curated by John Zorn): Stay Fucked, Time of Orchids, Newspeak – Tonic $5/$10
Good for Cows with Shelley Burgon and Trevor Dunn – The Stone 10PM $10
Jeff, FESTIVAL, Collapsing Opposites, Earthquakes – Place (toddpnyc.com) $7
Mission of Burma, Major Stars - Warsaw $20
Municipal Waste, Annihilation Time, Splitting Headache, Clockcleaner, Dustheads - Northsix $9
Nick Castro and the Young Elders, Marianne Nowottny, Corbi Wright, Des Ark, Hope and Anchor - Cake Shop $7
Serena Maneesh, Tiger City - Maxwell's $10/$12
The Avett Brothers, Nicole Atkins - Bowery Ballroom $15
The Whigs, Leroy Justice, Blood Meridian, Cheap Seats - Mercury Lounge $10
USAISAMONSTER, Icy Demons, Effi Briest, Knyfe Hyts, La Tuna Magisterio – 289 Keny Ave (toddpnyc.com) $7