July 15, 2006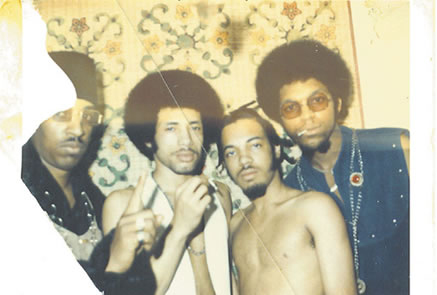 Black Merda: more after the tirade
The Family Stand, Black Merda and special guest Fugi, Sharrif Simmons - Summerstage 3PM FREE
I'm not too cool to admit that I love the Village Voice. I've been reading it since long before I ever had any intention of moving to this bloated berg. And, while I was perhaps more concerned with what Jay Hoberman had to say than anything music-related, I'd always flip to the music section and check out all of the articles and picks. And while the Voice hasn't always done the best job of covering very specific musical sub-genres and certainly has pissed a number of people off at points for either its cluelessness, neglect, or just printing Christgau in general, they tend to have broad interesting taste – with a few specialists thrown in for good measure that reflect the vast diversity of music happening nightly in New York . I continue to regualrly use it as a resource and think it's in one of the top twenty or so music publications around.
I'm also been madly in love with Coney Island ever since I can remember. I'll think of any excuse to go there any time – particularly of late as I worry that this'll be a last glimpse of one of my favorite places on earth.
So, as a Voice-loving Coney Island fanatic, why am I not going to the Siren festival?
I'm not afraid of heat or crowds.
This may just be the worst line-up yet in what is typically a fairly lame music event. Judging by the acts, Siren isn't strapped for cash. So why so many bands that range from mediocre to lame? This may be the best and most exciting musical moments in my lifetime – with an astounding quantity of quality original acts from all over the board. Is She Wants Revenge really the best they can do?
While I hesitate to speculate why one of the world's most intelligent towns, with one of America's finest weeklies, has one of the world's most bland, low-tier, and sophomoric music festivals, I can't help but assume that its an ill-conceived attempt to pander to a younger indie demographic with extreme cynicism. It appears as if they had no idea about what kids listen to the last couple of years, or the quality of the music they were selecting, and just wound up with a bunch of publicist-driven uninformed choices assuming that the kids wouldn't come out for anything interesting. A sad case of a blind conception of indie rock that's at least five years behind its time - but is totally in step with whatever's selling at Insound.
At least the major-label disco band at the end, while not my style, should be theatrical and fun... but what a waste.
Since I don't want to be a total downer, I'll do more than kvetch. I'll offer an anecdote to the Siren blues…
Black Merda, while they might not be, as they claim, "the first black rock band," were an excellent late-1960s/early1970s heavy-duty psychedelic Detroit r'n'r quartet. Not only was Black Merda one of the coolest looking groups ever, handsome dudes sporting giant Afros and bellbottoms, but also they made some extremely raw and soulful r'n'r. They were Chess label-mates with the likes of Muddy Waters, Howlin' Wolf, and Willie Dixon in this transitional Electric Mud period for the label – and you can hear that, as well as neighbors like MC5 and Funkadelic in their hybrid revolution-charged excitement. Today they'll be joined by Fugi, AKA Ellington Jordan, who, while in San Quinton, penned "I'd Rather Be a Blind Man," which was made over into the standard "I'd Rather Go Blind." He became acquainted with Black Merda after he moved to Detroit to write for Chess and become an impressive, but under-appreciated solo artist in his own right.
Finally, Carla Bozulich and The Dead Science were every bit as much of a hair-raising sonic epiphany as I expected last night and are doing it again tonight at a Todd P show at Goodbye Blue Monday.
The Parks Department kicks the Voice's ass... shame...
MEDIA:
Black Merda, "Prophet" (m3u)
Black Merda, "Think of Me" (m3u)
Black Merda, "Cindy Ruth" (m3u)

ALSO TONIGHT:
An Afternoon Bastille Day Celebration w/Polka Freakout (Brave Combo's Bubba Hernandez and accordionist Alex Meixner), Stephane Wrembel's Hot Club of New York - Barbes
Antigone Rising –Lincoln Harbor Park 7PM FREE
Ches Smith's Solo Music– The Stone 8PM $10
Dead Science, Carla Bozulich, Inconvenient Music, Anni Rossi – Goodbye Blue Monday $5
Dear tonight, Murdock, Autokinoton. Ricky Fitts, Heartwarmer – Northsix Downstairs $7
French Kicks - Tribeca Grand Hotel FREE
FULL FORCE: The new rock complexity (curated by John Zorn): Roundtable Discussion with John Zorn, Bill Brovold, Toby Driver, Kevin Gallagher and David Little (7PM), Electric Kompany, Kayo Dot – Tonic $5/$10
Good for Cows with Mary Halvorson and Jessica Pavone – The Stone 10PM $10
Lez Zeppelin - Bowery Ballroom $20
miguel frasconi + jane scarpantoni – ISSUE Project Room $10
Murder Mystery Clock Hands Strangle Explorer - Northsix $10
Nortec Collective, Beto and Richie Grupo Sonador – Prospect Park Band Shell FREE
The Philistines, The N.O.M.A.D.S, Iron Sheik - Cake SHop $12
Siren Fest: Stars, Scissor Sisters, Art Brut, She Wants Revenge, The Cribs, The Stills, Serena Maneesh, Tapes 'n Tapes, Dirty on Purpose, Celebration, Man Man, The Rogers Sisters, Priestess, Deadboy & The Elephantmen - Coney Island FREE
Team Spider, Introspect – Tommy's Tavern
The Black Hollies, The Insomniacs - Magnetic Field $7
The Dead Science, Carla Bozulich, Inconvenient Music - Goodbye Blue Monday
The Rogers Sisters, Roxy Pain, Proton Proton, sh-sh-sh-Shark Attack!!! - The Hook $10
Todd Terje, TBC, Kudu, Citizen Kane - P.S. 1 $10
White Monkey plus Faux Fox – Tonic MIDNIGHT $5