Saturday July 22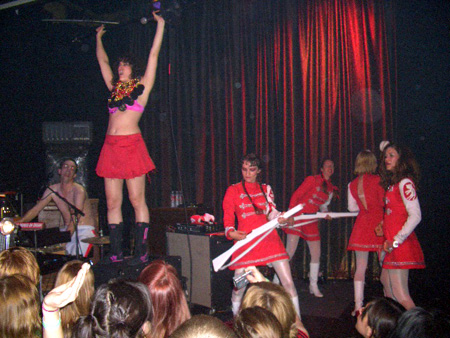 Jonathan Kane's February, Home, Taiko Masala, Dragons of Zynth - East River Amphitheater 2PM FREE
The best thing to do this afternoon has got to be at the East River Park show but I doubt it'll happen as it's supposed to rain cats and dogs by that point. The headliner is the blues-informed art rock project of Swans' co-founder/downtown percussionist extraordinaire, Jonathan Kane, February – which also features the most unsung Modern Lover, Ernie Brooks. Home, now on their sixteenth album, and aging like a fine wine, is also on the bill. As is the Japanese drum intensity of Taiko Masala and the unusual postmodern afro-eclectica of Dragons of Zynth.
Peaches, Eagles of Death Metal - Irving Plaza $25
For tonight, I'd say, first and foremost,.... Peaches. A recent performance that I witnessed in New Orleans showed that, while the electroclash trend (was it significant enough to be a phenomenon?) is thankfully now just a bad memory, Peaches is still standing tall - very much at the top of her game and the peak of her powers as one of the most witty, engaging, and vigorous performers in the biz. I hear that she's toting a full live band for the first time ever. Hearing her play her burlesque of Black Eyed Peas' "My Humps," "My Dumps," should be worth the price of admission alone. And I imagine the Eagles of Death Metal's riff rock candy'll be a fun thing to check out live as well.
FROM B to Z Episode VII: Vaz, Zs, Telepathe, Chuck Bettis / Brendan Murray, Dynamite Club (Japan) – Cakeshop $7 (toddpnyc.com)
Secondly, the Cake Shop has an amazing local bill. Headliners Vaz are truly a classic by this point and you can read my last preview for them here. Zs is a really interesting loud and intricate art band who release their work on Troubleman. The Social Registry's Telepathe, are NYNT's favorite pet communicators (read this for more). Chuck Bettis, vocalist for the recently deceased Measles, Mumps, Rubella, who also does quite a bit of work wit downtown improvisers gets together with experimental drone musician Brendan Murray. Finally, the one out of town band on the bill is the very promising Okinawa death metal band Dynamite Club.
Moisturizer, Roughstars, Apsci, Love Mas – Southpaw $10
And, finally, don't forget to get down with the groove and sax explosion of Moisturizer - a super-soulful andunder-rated local institution.

MEDIA
Just got to the bold names above...
ALSO TONIGHT:
A Guy Called Gerald, San Serac, Derek Plaslaiko - P.S. 1 NOON $10
A Place To Bury Strangers, Lions & Tigers, The Jealous Girlfriends, Earlymay, Schwervon!, Radio America - Northsix $10
Ambitious Orchestra, Mahi Mahi, Jonathan Kane, Golden Tongues, American Sinners - Sin-e $10
Cheb I Sabbah, Riffat Sultana & friends – Central Park Summerstage 7PM FREE
chris tignor + slow six– ISSUE Project ROOM $10
Chuck Bettis + special guest w/ Z's & Telepathe – Cake Shop
Cracker, Roger Clyne - Bowery Ballroom $20a/$22d
Deadboy & The Elephantmen - Maxwell's $10
Death Unit: Carlos Giffoni, Chris Corsano, Trevor Tremaine & Brian Sullivan, Prurient, The Eagles of Hair Metal: Alan Licht, Keith Fullerton Whitman, Mike Bernstein, Greg Kelley & Tamio Shiraishi, Three Legged Race –Tonic 10PM $8
DMX – BB King Blues Club $30/$35
Dr. Lonnie Smith Trio – Jazz Standard $20
Giraffes, The Vacation, Ezra Reich - Mercury Lounge $10
Henry Threadgill's Zooid – Iridium $30
Jack Rose - Brooklyn Fireproof
Machine Equalizer, Rock City Morgue, Z02, Monster Eiffel Tower - Trash $10
sally, Kinetic, Limbs - Union Pool
Shane Endsley & Feature –Tonic 8PM $10
Susan Cowsill - Maxwell's $10
The Giraffes, The Vacation, Ezra Reich – Mercury Lounge $10