Tuesday, July 25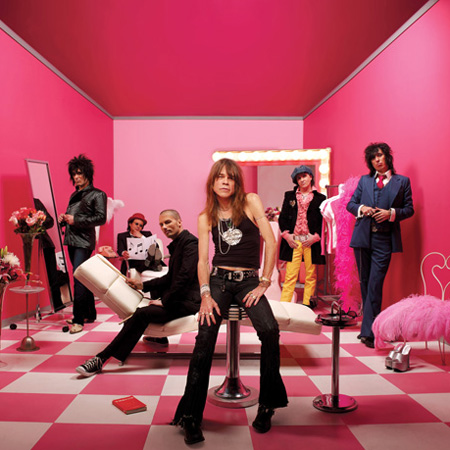 The New York Dolls – Tower Records/Tower Village FREE
Ain't the 21st Century somethin'? As a Texan, I would've never believed I'd get a chance to see reunions by two of my favorite bands of all time, The Dicks (twice in NYC this week! - the original version – but sans the brilliant guitarist Glenn Taylor though) and Scratch Acid (Chicago in September – all original members). And, as a New Yorker of more than eight years, one of the more anticipated reunions for me has been the New York Dolls.
I've passed up all of the new Dolls' shows thus far. I have difficulty imagining the band without Thunders and Kane, or even latecomer Jerry Nolan. But I need to get over my cynicism. You will get to see Johansen and Sylvain playing Dolls songs and I know they haven't had any trouble finding extremely accurate Thunders and Nolan sound-alikes in a town comprised of three decades worth of imitators who've never really seemed to develop styles of their own. Plus, if you've seen David J around, you know he looks better than he has in years – the old 1970s haircut and serious sexy style for an elder statesman. I'd take 'im over Iggy without batting a heavily mascara'd eyelash at this point. Finally, reports from the battle lines have been relatively enthusiastic.
I know what you're thinking. And perhaps they should let the Dolls continue top rest in that fantastic spot they occupy in our collective cultural memory. But that's no way to think. It's every old band's 21st Century (re)birthright. Most importantly, so many bands have profited from either biting off bits and pieces of the Doll's sound or the whole enchilada - from Bowie, Kiss, and Aerosmith to The Dictators, The Ramones, and The Sex Pistols, to Ratt, Poison, and Guns and Roses, to the present. Though I know the guys are back for love o/art, and the fans, and whatever, etc..., they definitely deserve a payday. After witnessing two-thirds of Os Mutantes put on an unreal performance Friday, I know it can be done. Plus, since these guys've given us so much, it's our turn to reciprocate by giving 'em a fair shake. It's better than watching a bunch of youngsters who don't get it try to be them… Or at least that's where this lunatic's diatribe seems to be going.
The new lineup has an LP coming out, One Day It Will Please Us To Remember Even This. The few tracks I've heard definitely sound Dollsish - or at least really accurate fun-loving Doll impersonators. Though it's produced in a rather flat, clean, contemporary, and fairly conventional manner, the distinct spirit and personality still somehow manage to emerge. These are the first new recordings under the New York Dolls' moniker in over thirty years, and to celebrate you can see 'em for free at the Tower Records before you go a block away and buy the CD at Other Music.
See ya in line suckas…
MEDIA:
Dance Like a Monkey (Video)
Recording of One Day... (Video)
Dance Like a Monkey (MP3)
Take a Good Look at My Good Looks (WMV)
ALSO TONIGHT:
3 Inches of Blood, Early Man, Bad Wizard - Knitting Factory Main Space $12/$14
Adam Green - Virgin Megastore Union Square
Bossa Nova: The Brazilian Soul Of Antonio Carlos Jobim – 92nd street Y $50
Cat Power - Hiro Ballroom at the Maritime Hotel $20
Thomas Mapfumo and the Blacks Unlimited – S.O.B.'s $25
Chris Corsano Solo plus Sean Meehan Solo – Tonic 10PM $8
Ilash, Die! Die! Die!, White Rabbit, Faces on Film - The Annex $6
Little Brother & Joell Ortiz – Ft Greene Park FREE
Michael Evans/Jeff Arnal Percussion Duo–Tonic 8PM $8
Mingus Big Band – The Iridium $12.50/$25
Murder By Death, Langhorne Slim, Aberdeen City - Maxwell's $10
October Fall, NEEDTOBREATHE, Drive By - Bowery Ballroom $14/$16
Orchestra Broadway – St. Mary's Park (Broadway)
S.E.M. Ensemble plays Feldman and Emerging Composers – The Stone 8PM $10
Sean Meehan Solo, Chris Corsano Solo –Tonic 10PM $8
Slavic Soul Party! – Barbes $10
This Song Is A Mess But So Am I, Lazer Mountain, Terrior Bute - Cakeshop (toddpnyc.com)
TK Webb, Revival – Union Pool (toddpnyc.com)