Wednesday, July 26 (Kill From the Heart, Y'all)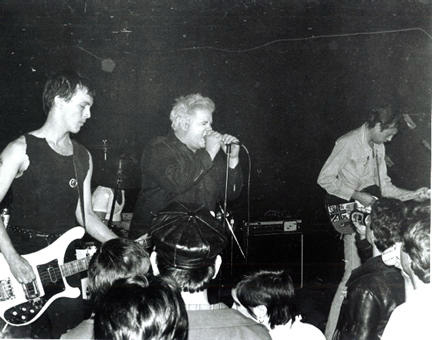 OK, I know the reunion madness is getting out of hand. But today are two of the most promising musical resurrections out there...
The Dicks, Int'l Shades – Maxwell's $12
My favorite punk band ever isn't the Ramones. It ain't the Sex Pistols. And it certainly isn't The Clash. It's the original Austin Dicks. Though a self-described "Commie Faggot Band," the original line-up of Gary Floyd, Buxf Parrot, Pat Deason and Glen Taylor were no gimmick. They laid down well constructed catchy songs played with an unreal vigor with, misanthropic lyrics that read like the best contemporary grotesque fiction. Like all of the greats, they were distinctive instrumentalists who fit together in an unlikely fashion - the wind power of Floyd's unparalleled resonant blues howl, Taylor's spastic hair-raising guitar work, Buxf's powerful and surprisingly melodic bounce, and Pat's punk drum fury. The biggest shame is that they didn't record all that much and, despite a compilation still in print, most of what they did lay down has thusfar been as difficult to pin down as the few pressings that remain untouched in climate-controlled record collections from Germany to Japan.
Formed as an idea around 1978, and gigging by 1980, the Dicks were everything you've always sought out in punk rock but rarely ever found. These weren't a bunch of art school kids or suburbanites like their contemporaries - but a burly half-gay quartetet of working class Texans that were pissed off, intelligent, and witty and not afraid to point out less-than-comfortable truths. This wasn't fashion - this is what punk always pretended to be but wasn't - pure well-directed spleen. Screw "Anarchy in the UK," if you want a song that lays down the law about authority with ten times the brains, anger, and realism, try their 1980 debut single, "Hate the Police," on for size. Here're a couple of legendary lines: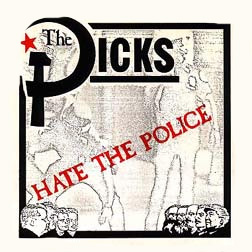 Mommy mommy mommy… look at your son
You might have loved me, but now I've got a gun
You better stay out of my way
I think I've had a bad day

Daddy daddy daddy… proud of your son
Got himself a good job killing niggers and Mexicans
I'll tell you one thing and it's true
If you can't find justice, it'll find you

Don't it make that other stuff look banal and safe? And the hits didn't stop there. Their side of the 1981 live album with the Big Boys, Live at Raul's, was pure fire. Sloppy, angry, and undeniably powerful, it included classics like "Fake Bands," "Dead in a Motel Room," "Wheelchair Epidemic," "Shit Fool," "Lifetime Problems," and "Suicide Note." It's a crime that it's been unavailable for twenty-five years. The band's first and only studio album, Kill from the Heart, was produced by Spot for SST,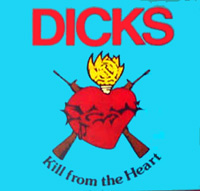 while a bit tighter and cleaner, still contained plenty of the manic desperation of their previous work. The most noticeable change here is that Glen Taylor emerges with an almost Hendrix/Sharrock approach to the twangy Texas punk sound he helped create. Subject-wise, half of the songs confront the growing hardcore skinhead phenomenon at the time: "Anti-Klan (1 and 2)," "No Nazi's Friend," and "Right Wing - White Ring." They also preach class struggle in "Rich Daddy" and "Bourgeois Fascist Pig" and get pervy in "Little Boy's Feet."
For me this is where the Dicks end. Gary Floyd moved to California without the band and called his new project The Dicks. They made a relatively big name for themselves in the growing hardcore movement but the Alternative Tentacles These People album is by far inferior to the rough wild magic of their early work.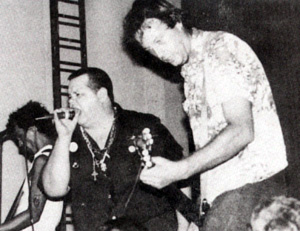 While The Dicks' first incarnation quickly dissolved, their virus is latent in everything that came after – particularly in the grunge era when, a number of the bands were made up of Dicks fans and covers like Mudhoney's "Hate the Police" or Jesus Lizard's "Wheelchair Epidemic" were staples of both bands' live sets and released commercially.
In the early 1990s I caught Buxf and Pat's band local Trouser Trout as much as possible, even setting up shows with them and my band. Buxf and Glen soon got together and started a band called Pretty Mouth (a Deliverance reference), I was almost as excited as they were. We set up a huge show for their debut with the popular local bands opening but it was a wash – which was sad because they were unbelievable. Glen had become hands-down one of the best guitarists I had ever seen and Buxf of course made a fine front man. Though they played for a few years, toured, and found quite a fan in William Burroughs (a man who knows and respects a good degenerate when he sees one - somewhere they have excellent pictures with him in his garden in Lawrence), they never really caught on in Austin – a little to early and a little too late at the same time.
Glen's liver gave way in the late-1990s and he passed away with very little local attention - his death eclipsed by that of a local white blues bassist... Austin...
Last year Gary Floyd, Buxf, and Pat got back in the fray with a couple of Glen's best friends playing guitar and, by all accounts, the Austin and LA shows were pure kill from the heart. So tonight and tomorrow you have the rare chance to see something I've been waiting almost twenty years to see. I know I won't regret sending ya. This just shouldn't continue to be merely a secret history.

MEDIA
Hate the Police
Rich Daddy
Dead in a Motel Room
Shit Fool
You can also nab "Lifetime Problems" and "Saturday Night at the Bookstore" on their myspace page.
AND...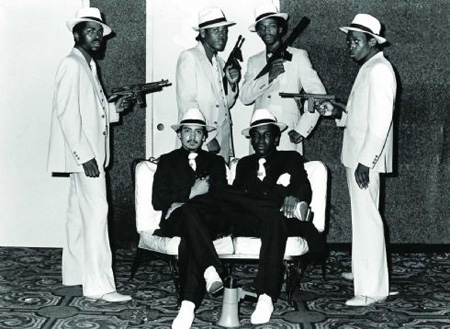 Cold Crush: the first gangster-rap photo?
Cold Crush Brothers – Crotona Park (Bronx) FREE
On the other side of the tri-state area, you will have time to catch the reunion of another immeasurably important band, the mighty Cold Crush Brothers, in the Bronx before you head over to Hoboken. Cold Crush is without a doubt one of the finest hip-hop acts ever – and certainly one of the first. Perhaps due to the fact that many of their commercial recordings were,… well... commercial in the cheesiest sense of the word, most people don't know them as well as some of the other forefathers – which is too bad, because, if you ever get your hands on any live tapes, you'll find that there's a reason the Cold Crush left everyone else for dead in battles.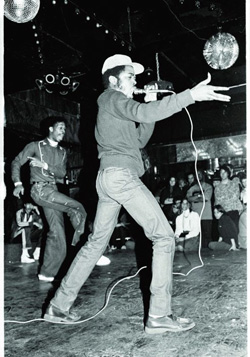 Born out of the very confusing lineage of the primordial years of hip-hop, the group drew together members of some of the genres earliest crews. The best known version of the group came together in the late 1970s with DJs Tony Tone, and DJ Charlie Chase, Easy A.D., Grandmaster Caz, Almighty Kay Gee, and J.D.L. Money Ray. Caz was already quite a Bronx celebrity at the time – performing as Casanova Fly, everyone bit his rhymes, including, most famously the Sugar Hill Gang in "Rappers Delight." Sugar Hill weren't the only ones. The mighty Cold Crush was imitated throughout the relatively small world of hip-hop in their early years and bits and pieces of their innovations still remain in contemporary hip-hop – not only the now-standard rhymes and phrases, but their group harmony ("Seasons in the Sun" anyone?) and stage routines. Perhaps you remember 'em from – where they dramatized one of their many famous battles with the Fantastic Five (how did the Five beat the Crush in the end?).
This is billed as just another Cold Crush show – as the band has been performing somewhat regularly – but Caz's website calls it a reunion. I wonder who'll show up. Other than Money Ray (R.I.P.), the rest are alive and kicking. I can't see how you can go wrong unless they play, one of their lesser innovations, "The Punk Rock Rap."
ALSO TONIGHT:
Antony & The Johnsons, Coco Rosie, Matmos -Warsaw $25
Arms, The Devilles, The Dose Antler - Lit $6
Butch Walker, The Let's Go Out Tonites, As Fast As, Boys Like Girls-- Irving Plaza $20
Danielson, Ben + Vesper, Feathers - Knitting Factory $10
Don Byron Quartet – Jazz Standard $30
Electroputas, Danava, Snowfoxxes, Jacob Morris – Cake Shop $6
Family Underground, Mouthus, Fursaxa, Real Bones–Tonic 8PM $8
Felix Hernandez Rhythm Revue – Ft Greene Park FREE
Fiona Apple, Damien Rice with David Garza – Central Park Summerstage
Golden Smog, David Poe - Bowery Ballroom $25
Jim and Jenny and the Pine Tops, M Shanghaii String Band, Jan Bell – Union Pool
Jim Staley – ISSUE Project Room $10
Karen Waltuch– The Stone 10PM $10
Kekele - S.O.B.'s $20
Mew - Hiro Ballroom at the Maritime Hotel $22
Robbers on High Street, The Red Romance, Sonny Oaks, Action Reaction - Mercury Lounge $12
The MPTHREE – The Stone 8PM $10
The Spinners – Rockefeller Park 7PM FREE
This Song Is A Mess But So Am I, Boyzone – Goodbye Blue Monday (toddpnyc.com) $6