Friday, July 28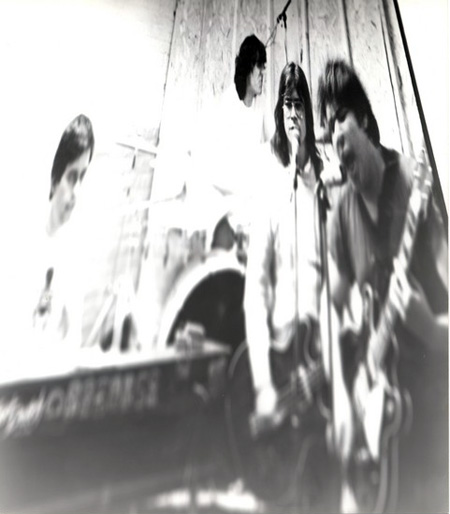 The Original Sins
Dot Dash Year IV: The Alarm Clocks!, The Cynics, The Original Sins, The Hentchmen, Terpentine Brothers:
Dot Dash has gone all out once again tonight. Yesterday's (this morning's) Dicks show was stellar. This time they present another mix of young and old bands that reads like a garage rock timeline.
The Alarm Clocks, a kickin' circa 1966 Cleveland band known for "No Reason To Complain," are reunited after a forty year hiatus and playing their first New York show ever tonight. The Cynics are the long-standing fuzzy Pittsburg R&B/punk institution that in the 1980s were one of the few prolific bands playing that style - helping create the template for the 1990s garage revival and keeping steel city going through years of drought. The Original Sins are another band from the late 1980s led by Philly's underrated rock Renaissance man, Brother JT. I saw a performance of their's when they were still a band and another late 1990s reunion show and both were pure churning Farfisa-drenched pleasure. The Hentchmen are an amazing trio who in the early 1990s Detroit scene were a sort of bridge between the Gories and White Stripes eras. Finally, Boston's Terpentine Brothers are a 21st Century act featuring Mr. Airplane Man's drummer. They keep that trademark regional 60s Lyresy organ based sound – but much darker and rawer. I can't see how any of this will suck and some of it may just be transcendent.
ALSO TONIGHT:
awesome doods to be announced, Heloise and the Savior Faire, The Death Set, Dirty Beauty Shoppe – Uncle Paulies
Brand New - Bowery Presents @ Webster Hall $18a/$20d
Demassek, Hightower, Team Robespierre, Split Bolt, Emblazon of Knife – Cake Shop $6
Don Byron Quartet – Jazz Standard $30
Editors, Lake Trout, The Big Sleep -Irving Plaza $23/$25
Elvis Perkins, Nicolai Dunger, Benjy Ferree - South Street Seaport FREE
Faashi, Shitstorm, Strip Mall Seizures, Dynamite Arrows, The Good Good – Tommy's Tavern $5
Hightower, Demassek, Soujourn, Team Robespierre, Emblazon of Knife – The Cake Shop
ikue mori + hans tammen – ISSUE Project ROOM $10
Japanther, Matt and Kim, Heloise, The Savior Faire – Uncle Paulie's (toddpnyc.com)
Jason Cady - Post-Madonna Prima Donna / Odi et Amo – The Stone 8PM $10
Loren Dempster and the Bushwick String Quartet– The Stone 10PM $10
Marc Ribot's Ceramic Dog–Tonic 8PM/10PM $12
Nicolai Dunger, Elvis Perkins, Benjy Ferree - South Street Seaport FREE
Paralpin – Tonic MIDNIGHT $5
Rahim, Life In Bed, Antelope - Union Pool
Ramakien: A Rak Opera – Laguardia Concert Hall
Silver Mt. Zion, Black Ox Orkestar - Northsix $12
Sound Team, Cold War Kids, Midlake, The Diableros - Mercury Lounge $12
The Fugue, This Song is A Mess But So Am I, Lazer Mountain, Terrior Bute – Cake Shop $6
The Long Blondes - Don Hill's $10
Tim Berne's "Faux Faux" - 55 Bar
World/Inferno Friendship Society - Bowery Ballroom $15