Monday, July 31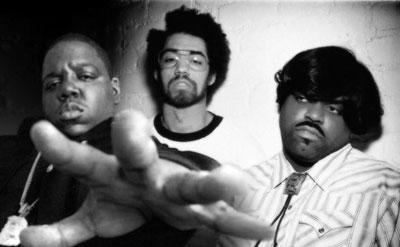 Gnarls Biggie listening party with Tess – Joe's Pub FREE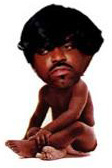 Gnarls Biggie, a mash-up project by Brooklyn DJ unit Sound Advice, has been in the news quite a bit lately for putting together a full-length album uniting Biggie Smalls and Gnarls Barkley. Despite a couple of hand slaps, including the removal of their collages from Myspace, the relentless duo has seen their project through to completion – and, in the process, shown the biz its own grotesque reflection.
There's no product in recent memory that's commented on the new intersections of contemporary music, technology, and capitol more thoroughly than Gnarls Biggie. The Notorious B.I.G. has had a decade worth of posthumous vocal takes chopped and stretched (you could say skrewed - and I don't mean slowed down) across new tracks. And, if your memory goes back that far, Gnarls Barkley's Dangermouse came into the spotlight with his Grey Album – a mashing of the Beatles' White Album and Jay Z's Black Album – and, despite the music industry's efforts to destroy him, found more notoriety than trouble for his boldness. So now that Mouse is of the same mainstream music establishment that continues to milk Biggie's corpse to dust, we could all use a little Gnarls Biggie to stir things up a bit.
The music is not only lives up to the concept in terms of wit, but, with Gnarls Biggie, Sound Advice proves themselves to be a very capable and imaginative crew. If you can't make it tonight, you can apparently pick up a physical copy at Fat Beats... or you can download it for free here.
ALSO:
A Place to Bury Strangers, My Education, Ari.Ari, Brian Wilson Shock Treatment – The Cake Shop $5
Black Heart Procession, Devics, Castanets - Bowery Ballroom $17
Gnarls Biggie listening party with Tess – Joe's Pub FREE
Jack Rose plus Souled American – Tonic $10
Les Paul and His Trio – The Iridium $40
Precious Metal: Bloody Panda, Black Cobra, Unpersons
Reverend Vince Anderson and His Love Choir – Black Betty FREE
The Dixons, The Weight, Jeremy Yocum – Union Pool