August 9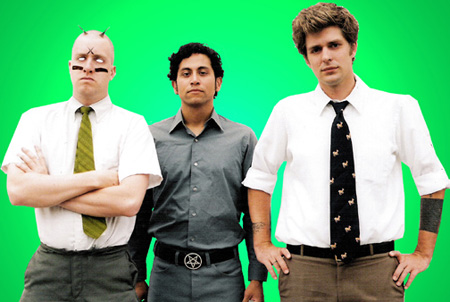 The Flying Luttenbachers, Blind Idiot God - Tonic $10
This is pretty incredible. Though neither band is dated, this amazing highly-musical all-instrumental rock double-bill could've easily taken place in the early 1990s.
The Flying Lutenbachers are Weasel Walter's restless combo, who, in the last fifteen years have made a gazillion records and toured regularly while exploring everything from abstract sonic collage to prog to free jazz improvisation to heavy rock to noise (is that why they're always tagged "no wave"?). Whichever direction they turn however, they approach the sound from a their own distinctive playful, chaotic, rhythmically and harmonically complex approach – whether free or composed, rocking or amorphous. Screwed-up, heart-felt, and, shockingly accomplished.
Blind Idiot God, also initially from the Midwest, St. Louis to be exact, made their debut in the late-1980s on SST records. They eventually moved to Brooklyn and shook the East Coast with their extremely sophisticated fast, melodic, and metal/jazz/dub-tinged compositions played at legendary volume. They collaborated and recorded with the Bill Laswell, John Zorn, and other downtown noisemakers, eventually releasing their material on Zorn's former label, Avant. Thus, like the Luttenbachers, Blind Idiot God are one of those rare bands who have equal appeal in the avant jazz and underground rock worlds. The trio broke up more than a decade ago and just returned to the stage a few weeks ago...
So these are two rare treats for fans of brutal and challenging instrumental rock… not to be missed…
MEDIA:
Flying Luttenbachers:
"Elfmeros" MP3
"Rise of the Iridescent Behemoth" MP3
"Floatation Method" MP3
ALSO:
Ari Heist – Joe's Pub
Black Dice, The Woods - Knitting Factory Main Space $12/$15
Black Rock Coalition: Burnt Sugar the Arkestra Chamber - Lincoln Center, Josie Robertson Plaza 8:15 FREE
Candi Staton, Stephanie McKay - Bowery Ballroom $25
Dave Binney – The Stone 10PM $10
For Living Lovers – The Stone 8PM $10
John Roderick of The Long Winters – Other Music 8PM FREE
Kevin Devine, The Jealous Girlfriends, Don Peris, Denison Witmer - Pianos $8
Lagbaja - S.O.B.'s $22
Marshall Crenshaw - Rodeo Bar
Menlo Park, The Hysterics - Spiegel $15
New London Fire – Maxwell's
Night of the Ravished Limbs: Ben Gerstein Collective & Bizingas Trio – Barbès $8
Son Boricua, Jose Mangual and Jimmy Sabater - South Street Seaport, Pier 17 FREE
The IO's, Me and My Shadow - Southpaw $8
Tony Danza & Don Rickles - North Fork Theatre, Westbury Music Fair $52/$62
Trachtenburg Family Slideshow Players, Steve Shiffman & The Land of No - Mercury Lounge $10/$12
Vasily Primakov - Lincoln Center, North Plaza 6:30 FREE