August 10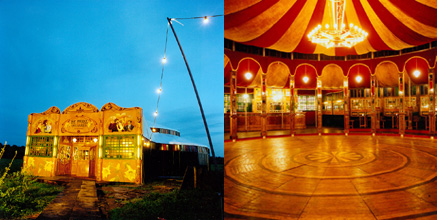 Spiegeltent: Diamanda Galas - South Street Seaport, Pier 17 6PM $30
For the next couple of months South Street Seaport's Pier 17 will be the temporary home of one of the world's last remaining Spiegeltents. Also known as a tent of mirrors, these elaborate hand-made mobile concert halls were fashionable in the early 20th Century. The few of these Belgian beauties that remain are regularly employed in Europe for events like the Edinburgh Festival. Throughout its stay in New York, from tonight and until the end of September, the venue will be put to heavy use from noon until early in the morning - hosting music, cabaret, comedy, and circus acts.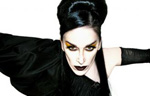 Of the four events scheduled inside the Spiegeltent tonight, the one I'm recommending is Diamanda Galas performance of "Long Black Veil" - a selection of "tragic and homicidal love songs." Not only will Galas be pulling out a few of her originals, but also songs by the likes of OV Wright, Screamin' Jay Hawkins, and Ornette Coleman. Diamanda's song-oriented material, particularly the covers, always from a wide spectrum of sources, have long been my favorite part of her repertoire. Who else on this side of Nina Simone has ever been able to do Screaming Jay's "I Put A Spell On You" justice? I can't think of a better setting to witness the underground's most masterfully intense and inventive diva.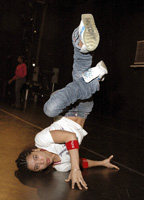 For those who can't afford the tent, there's too much good free stuff throughout the day to warrant staying home. This afternoon Billy "Me and Mrs. Jones" Paul plays a free set at Metrotech Commons. Tonight B-52's do Coney Island, Los Amigos Invisibles are at El Museo Del Barrio. RJD2, Lyrics Born, and Alice Smith get down at Pier 54, and, the incredibly funky BT Express ("Do It 'Till You're Satisfied," "Mental Telepathy," etc) are at Pier 17 not far from the Spiegeltent. Finally, of particular interest, "We B*Girlz: Women in Hip Hop" marks the 25th anniverary of the original battle at the same location where the Rock Steady Crew took on the Dynamic Rockers. Legendary early hip-hop photographer Martha Cooper, who filmed the original battle, this time organized some of the best women in breakdancing for what promises to be a legendary event. See below for details...
ALSO:
Angelica Sanchez – The Stone 10PM $10
B-52's – Coney Island FREE
Baby Dayliner - Piano's FREE
Billy Paul – Metrotech Commons FREE
BT Express- South Street Seaport, Pier 17 7PM FREE
Essie Jain – Mercury Lounge
Golem - Skyport Marina $20
Grant Lee Philips – Knitting Factory
Rapscallionz, Boogie Boarder, Spirit Marines, Snakes Say Hiss, The Huxtables – Cakeshop
Husky Rescue, The Elanors, Earl Greyhound, Essie Jain - Mercury Lounge $10
ipr's (interns perform): Colin Sanderson, Ben Bontempo, Noah Modi – ISSUE Project Room $10
Joe Morris Organ Trio – Tonic 8PM $10 + 1 drink minimum
Los Amigos Invisibles – El Museo Del Barrio 6:30 FREE
Lucero - Rocks Off Concert Cruises $20/$25
Morning 40 Federation, Americans, The Waylons, Smite – Northsix $10
Not a Photograph: The Mission of Burma Story – Walter Reade Theater
Radio I-Ching – Tonic 10PM $8
Rebirth Brass Band - Coda $20
RJD2, Lyrics Born, Alice Smith - Pier 54 FREE
Shadows Fall, Poison the Well, It Dies Today, Still Remains, Suffocation - Nokia Theatre Times Square $18
Sodom, Immolation – BB King Blues Club $28
Spiegeltent: Josh G Abrahams' Puretone Mash-up - South Street Seaport, Pier 17 MIDNIGHT $5
Stomu Takeishi – The Stone 8PM $10
Tabou Combo - S.O.B.'s MIDNIGHT & 2AM $22
The Church - Irving Plaza $35/$40
Toubab Krewe - S.O.B.'s 10PM $12
We B*Girlz: Women in Hip Hop - Lincoln Center, Josie Robertson Plaza 5:30 FREE