August 11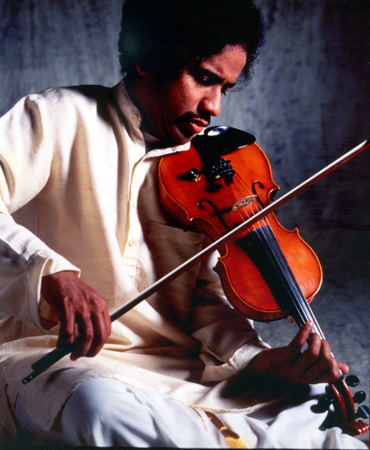 Lincoln Center Out of Doors: Dr. L. Subramaniam & Eugene Fodor - Damrosch Park 8PM, Nii Tettey Tetteh & the Kusun Ensemble - Lincoln Center, Josie Robertson Plaza 6PM FREE
Do you remember those unusual soundtracks to late 1980s, early 1990s indie cinema classics like Salaam Bombay or Mississippi Masala? Well, that's where, like me, you may have initially been introduced to the work of "the Paganini of Indian classical music," Dr. L. Subramaniam. This towering figure in Indian, world, and classical music will be performing a rare free concert tonight at Damrosch Park for Lincoln Center Out of Doors.
The foremost virtuosic violinist of his genre, and an accomplished composer to boot, Subramanian has also performed, written and conducted in Western classical, jazz, and other realms, collaborating with everyone from Yehudi Menuhin to Stephane Grappelli to Herbie Hancock. While his compositions are definitely global in scope, they are based on the modalism (ragas!), improvisation, and traditional instrumentation (tables, etc.) of the finest Indian classical tradition.
Additionally, if you get to Lincoln Center early, Nii Tettey Tetteh, a Kashaka expert from Southern Ghana whose Western work in goes back to the 1980s with Fleetwood Mac, Stevie Wonnder, and Isaac Hayes, is leading Kunsun Ensemble. This music and dance ensemble performs a combination of traditional pan-African rhythms and jazz that in their native Ghana is called "Nokoko."
If you prefer to stay in Brooklyn, and you don't already have an in at McCarren Park Pool, you should skip over to Galapagos to check out the local triple bill featuring the shattered electro-rock duo Dynasty Electric, the energetic glam punk of The Assault, and the quirky electrified sea shanties of the pir-ettes of Pyradical. Or, later gator, the night unwinds to the soundtrack of the legendary PoNaveNunkRockDeeJays at the Southside.
ALSO:
Adam Levy – Tonic MIDNIGHT $5
Dynasty Electric, The Assault, Pyradical - Galapagos
Flaming Fire, Autodrone, Linda Hagood - Tonic 8PM $8
Grant Lee Philips - Maxwell's
Jeremy Enigk, Stars of Track and Field - Bowery Ballroom $15
John Herbert Group – The Stone 8PM $10
Lloyd Banks, Clipse, Shawanna, Remy Ma - Hammerstein Ballroom $40/$50
michael evans' fulminate trio – ISSUE Project Room $10
Michael Winograd's Infection – The Stone 10PM $10
Sonic Youth, Yeah Yeah Yeahs, Blood on the Wall - McCarren Park Pool $35
Spiegeltent: Carolyn Mark & the New Best Friends - South Street Seaport, Pier 17 MIDNIGHT $15
Spiegeltent: Las Rubias Del Norte - South Street Seaport, Pier 17 6PM $15
The Coydogs, Jeremiah Rifles, Used To Be Women, In Mountain In Stars - Cake Shop $6
The Drams, Katy Mae – Southpaw $10
The Yams, The Turpentine Brothers, The Shemps, The Leather Uppers – Trash