August 12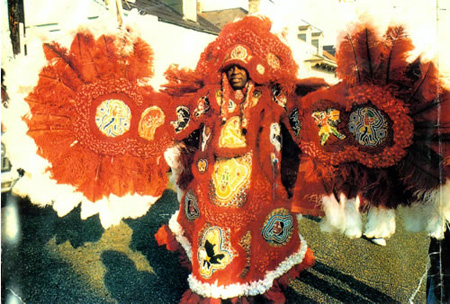 Big Chief Bo Dollis
Soul to Soul (Benefit or the New Orleans' Musicians Clinic): Wild Magnolia Mardi Gras Indians, Irma Thomas, Hot 8 Brass Band, and the Movers and Shakers – Central Park Summerstage 3PM $30 suggested donation
On a beautiful day like today what could be better than checking out some of New Orleans' finest in Central Park. Today's show, the second annual "Soul to Soul" concert, benefits musicians affected by Katrina.
The headliners are the first recording stars of all of the celebrated Mardi Gras Indian tribes, Wild Magnolia Mardi Gras Indians with Big Chief Bo Dollis. Since recording the classic 45 "Handa Wanda" (1&2) in 1970, and the 1973 LP Two-Way Pak-E-Way (including the immortal "Smoke My Peace Pipe" and featuring everyone from Willy Tee to Snooks Eaglin to Julius Farmer), Dollis' powerful leads over the band's unique get-down mixture of second-line percussion and Crescent City funk, while legendary, is something you just don't see every day around these parts.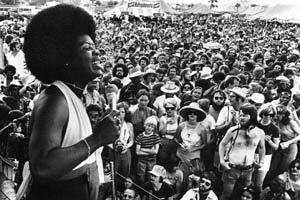 Irma w/afro!
The true highlight however is one of my absolute favorite vocalists of all-time, the incomparable "Soul Queen of New Orleans," Irma Thomas. If you don't know Irma as well as you should, she's the one whose original "Time Is On My Side" smoked the Stones' admirable cover, and whose "Ruler of My Heart" eclipses the immortal Otis Redding's masterful rip-off, "Pain in My Heart." Of course the hits don't stop there. Irma's finest performances can stand up to any soul artist out there: tender tunes like my personal favorite, "It's Raining" ("drip drop drip drop"), or "Two Winters Long" and "Anyone Who Knows What Love Is," or rockers like "Breakaway" and "Done Got Over It." Her phrasing, pacing, and overall vocal aesthetic when combined with her soul, wide range, and control are unparalleled and I can't believe that there she's not more widely considered the absolute finest pop singer of all-time (I know, I'm goin' for it... but seriously, who could take her at her best?). Anyhow, I saw her about a decade back and she still had it and I suggest you go get it now while, more than forty years down the road, it's still hot!
Finally, a relatively new Big Easy institution, the Hot 8 Brass Band (a decade of existence ain't nothin' in NO time), who sticks to the finer traditions of their city's finer celebrations, will be making you sweat early.
Some of the best music ever. Rare treats. A good cause. A beautiful day. What've ya got to lose?
Also, there's a gazillion great things to do indoors and out. Just look below...
ALSO:
bill etra, video – ISSUE Project Room $10
Candi Staton - Maxwell's $25
Grasshopper Briggan Krauss, Ikue Mori, Jim Black – The Stone 10PM $10
Holy Hail - Club Midway $5
Kaleta & ZoZo AfroBeat - Lincoln Center, Josie Robertson Plaza 3:30PM FREE
Lycaon Pictus, Extra Action Marching Band, Humanwire, Aun, Express Fiesta Glacier – Knitting Factory
Noblesse Oblige – Magnetic Field
Phoenix & Shadow, Livin' Trust, Fighterpilot, Silver Lining, Amanda Jo Williams – Pianos $8
Sonic Youth, Yeah Yeah Yeahs, Awesome Color - McCarren Park Pool $35
Sugar Water Festival': Queen Latifah & Jill Scott & Erykah Badu - Celebrate Brooklyn!, Prospect Park Bandshell $25
Supermodel Truckstop, The Invincible Dr. Psyclops Invasion, The Monster Project, Three Drink Minimum – Tonic FREE
The Format, Rainer Maria, Anathallo, Street To Nowhere - Irving Plaza $15
The International Spirit of the Blues: Markus James, Fantasia Music, Gazpacho Andalú, Hassan Hakmoun, Helder Moutinho, MC Guy Davis - Damrosch Park 7PM FREE
The New Year, Nina Nastasia, Kahoots - Northsix $12
The Primms, Blacklist - The Annex
Throwing Muses, Bullseye, 50 Foot Wave - Bowery Ballroom $20
Tony Malaby Solo – The Stone 8PM $10
White Magic, Doug Shaw, Jessef – Cakeshop $8
Willie Mae Rock Camp '06 Concert - Society for Ethical Culture