October 4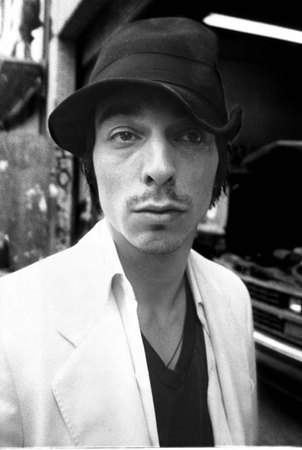 Parker Kindred starring in Somebody Sat on My Hat
While I know you want to attend New York Night Train's Motor City DJ night, you'll have to wait until next Wednesday for our first installment. I know my little universe is the center of your universe,... but wake up! There's also a whole non-NYNT world to discover...
By far the most interesting bill and best cause tonight is the benefit for Rational Animal and ASPCA with Beastie Boys, a couple of members of Blue Oyster Cult, Debby Harry, Miss Guy, Handsome Dick Manitoba, The Star Spangles, and a lot of other important figures from across the New York art and music spectrum. But, if you can't afford the $50 minimum you must lay down to be socially conscious, entertained, and fabulous, there're quite a few more things to do well worth your while.
I of course may suggest New York Night Train Recording artists Grand Mal, who currently feature one of their most impressive lineups yet, and are throwing down at Tonic with, batting first, local celebrity Reno Bo of Moonie Suzuki (ex-Hopewell, The Fame), and, following, Wild Bee - sort of the Gnomes or Adam Green's band, with the inestimable power of former Mal drummer Parker Kindred (Antony and the Johnsons, ex-Jeff Buckley, etc.).
On the other hand, if you like a little more raw power in yr rock, NYC scene vets Some Action are celebrating the release of their new album with the still-blistering Bad Wizard as their surprise guest (oh c'mon, who doesn't know). Funkier? The inimitable instrumental trio Moisturizer will never fail to get you down. More ethereal? Zs are a reliably challenging audio mirror image of an experimental chamber group reflected upon itself, or vice versa. Who says there aren't any good New York bands?
If you prefer to buy import over domestics, Grand Ol' Opry star and Louvin Brother Charlie Louvin will be digging in for another night at the Rodeo Bar. And finally, the adventure pick would have to be Toronto's Creeping Nobodies, whose post-art-punk is very original and tempting, particularly as local openers Mazing Vids are a fine way to electrocute yourself.
Do you really gotta choose?
The List:
Adrian Coleman and Matthew Fasano – Goodbye Blue Monday
Benefit for Rational Animal and the ASPCA: Beastie Boys, Joe and Al Bouchard (Blue Oyster Cult), The Choke, Marshall Crenshaw, The Duelling Bankheads, Joe Hurley and the Gents, Nellie McKay, More, Sick F*cks, The Star Spangles, Murray Weinstock, Debbie Harry, Miss Guy, Michael Showalter, Handsome Dick Manitoba, May pang, Jasmin St. Clair, Tony Buzzcock, Karmen Guy, etc. Hiro Ballroom at Maritime Hotel 7PM $50+
Built To Spill, Camper Van Beethoven, Helvetia - Irving Plaza $22
Charlie Louvin – Rodeo Bar
Creeping Nobodies, Crystal Clyffs, Mazing Vids – Uncle Paulie's (toddpnyc.com) $6
Daisy Press – The Stone 10PM $10
Hank Williams III, Assjack - Northsix $15
Jody Redhage – The Stone 8PM $10
Moisturizer, The Juggs, The Po Po – Fat Baby 9PM
Soft, The Receiver, Paul Michel, Chief - Cake Shop $6
Some Action, The Visitors, Jail, and surprise guest - The Annex $6
Vic Thrill - Mo Pitkins $10
Wild Bees, Grand Mal, J Dimenna, Reno Bo -Tonic $8
Zs, Lake, Fashe Mellow - Galapagos FREE