WEB ONLY RELEASE SPECIAL!!! Get both Kid Congo Powers' Solo Cholo and Kid Congo and the Pink Monkey Birds' Philosophy and Underwear together for only $20 - shipping is included! buy now
NYNT - 001:
Kid Congo Powers



Solo Cholo CD
price: $12
release: August 1, 2006
Best known for his guitar work with Nick Cave and the Bad Seeds, The Cramps, The Gun Club, Congo Norvell, and Knoxville Girls, KID CONGO POWERS has also played with the Legendary Stardust Cowboy, Make-Up, Mark Eitzel, The Angels of Light, and many more. SOLO CHOLO, a collection of rare nuggets and previously unreleased tracks compiled by Kid himself, focuses on the other side - his substantial body of work as a singer and songwriter. There's also no shortage of the guitar work that made Kid famous in the first place.
Spanning a twenty-year period, these ten eclectic tracks follow Kid through a number of phases. You will find him experimenting with garage rock, techno, balladry, noise, goth, and whole lot more. The bands backing Kid on SOLO CHOLO are as eclectic on the songs within - German instrumentalists DIE HAUT (on a duet with LYDIA LUNCH), garage rock supergroup KNOXVILLE GIRLS, German electro-superstar KHAN, moody lounge-rockers CONGO NORVELL, LA/NY cosmopolitans BOTANICA, and THE FUR BIBLE - Kid's 1985 dark heavy London band featuring PATRICIA MORRISON (The Gun Club, The Bags, The Damned, Sisters of Mercy), MURRAY MITCHELL (Siouxsie and the Banshees), and DESPERATE (The Gun Club).
Kid's collaborators on SOLO CHOLO include BARRY ADAMSON (Magazine, Nick Cave and the Bad Seeds,...), ROBIN GUTHERIE (Cocteau Twins), MARCIA SCHOFIELD (The Fall), STEVE YOUNG (Colourbox, M.A.R.R.S.), JIM SCLAVUNOS (Nick Cave and the Bad Seeds, Sonic Youth, Teenage Jesus, 8-Eyed Spy,...,...,...), ABBY TRAVIS (Beck, Elastica,...), PAUL WALFISCH (Firewater, Botanica, etc.), JIM THIRWELL (AKA Foetus, Clint Ruin, etc.), and more. And, just in case you need one more name followed by parentheses, the liner notes are by BB Gun's BOB BERT (Sonic Youth, Pussy Galore, Chrome Cranks,...).
Listen to "Hang the Moon" MP3
Read Kurt B. Reighley's review of Solo Cholo in Seattle Weekly
Go to NYNT's Kid Congo Powers Artist Page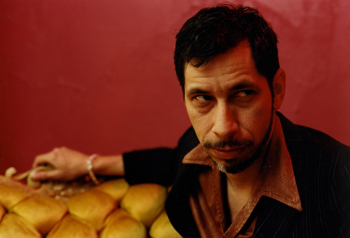 Track Listing:
1) Sophisticated Boom Boom (2001)
w/KNOXVILLE GIRLS
2) La Historia De Un Amour (1989)
w/ROBIN GUTHERIE, BARRY ADAMSON, MARCIA SCHOFIELD, and STEVE YOUNG
3) Why Hurt Flesh (2001)
w/KHAN
4) You Hang the Moon for Me (2003)
w/PAUL WALFISCH & ABBY TRAVIS
5) Power (2002)
w/BOTANICA
6) The Last Word (1998)
w/CONGO NORVELL
7) Parts Unknown (1993)
w/LYDIA LUNCH & DIE HAUT
8) Virginia Avenue (2000)
w/KNOXVILLE GIRLS
9) Vaseline (2001)
w/KHAN
10) Plunder the Tombs/Headbolt (1985)
w/THE FUR BIBLE