New York Night Train at Motor City
WEDNESDAYS 10 pm - 4 am
New York Night Train is currently curating weekly parties on Wednesdays at Motor City (127 Ludlow btwn Rivington and Delancey). Not only will you hear the mix of funky obscurities, underground standards, and new experiments that the New York Night Train DJs've become known for, but also the unique musical perspective of a different guest DJ from NYC's underground music community.every week. Past guests include include Gibby Haynes, Ian Svenonius, Nick Zinner, Kyp Malone, Kid Congo Powers, Vietnam, Bob Bert, Excepter, Stu Spasm, Bad Wizard, and many more.
weekly program:
May 2, 2007
STU SPASM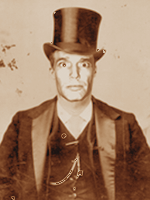 Stu Spasm is of course the international rock legend who not only masterminded such infamously ugly, historically important, and generally under-rated rock outfits as Lubricated Goat and Crunt, but also played in seminal Australian bands like Beasts of Bourbon and another Tex Perkins band, Salamander Jim. To the left you will find a 19th Century mug shot that bares an uncanny resemblance to our hero. In league with Satan you ask? Stu's admits that he was born mean, but evades the question by stating that he can't believe he's really making love to you. Behind the wheels, Stu leans towards the evil stuff but ballances it with a mischievous dose of schmaltz. And, if you're lucky, he'll break into song... I'm scared...