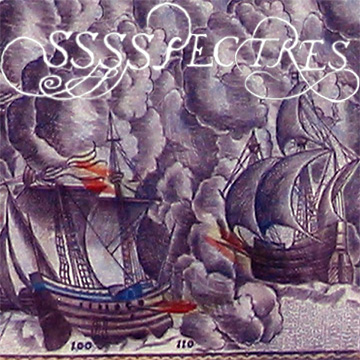 NYNT - 006:
S-S-S-Spectres
Sea Potentia Divina EP
price: $5
release: March 8, 2007
S-S-S-Spectres debut EP Sea Potentia Divina was recorded in seclusion by the band with little or no aid from outsiders. Indeed, S-S-S-Spectres guard their mysteries well, and these four songs hide as much as they reveal. Each two-minute no wave nor'easter hints at moments of tight, layered post-punk dance even as they careen toward chaos and dissolution. Mr. Flaherty's manic, sizzling 12-string guitar work owes more to the car-crushers at the impound lot than to the Byrds. Ms. Zumas likewise cuffs and stomps her belabored drum set into an insistent cacophony of jungle creatures one minute, and the grim, disciplined report of one hundred carronades the next. Through it all M. Zbyszynski's bass lurches like a drunken sailor with a serious case of the heebie-jeebies. The band hangs their cryptic whispers, chants and yelps over this precarious frame like so much voodoo ouanga. New York Night Train is pleased, honored and little bit terrified to bring one of Brooklyn's most well-kept and sinister occult secrets finally to the surface.