May 2006: SPOTLIGHT ON...
VIETNAM
A Chronological, Geographical, and Sonic Journey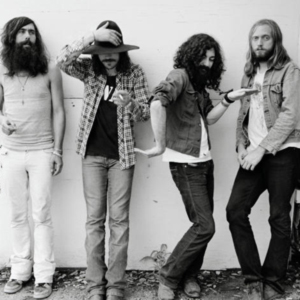 Don't let the picture fool you. This ain't the 21st Century Manson family nightmare you had in mind. These aren't run-of-the-mill weird beard freak folkies - or cookie-cutter heavy retro-stoners, psych rockers, or purveyors of any other subcultural musical trend of the last few years. This is the personal rock'n'roll of vision of Vietnam. They'll remind you less of The Band, Bob Dylan, Neil Young, and The Velvet Underground than they will Music From Big Pink, Blood on the Tracks, Tonight's The Night, Loaded, and other rare moments when distinct musical voices have delivered very straightforward yet compelling rock'n'roll.
Thus far Vietnam only has a single commercial release to its credit – an EP that Vice Records released but didn't do much to promote a couple of years ago. So, while you're forgiven if you haven't heard of them, be forewarned that Vietnam is poised to drop some serious rock bombs on the world in coming months. Last month they completed the mixing of theirself-titled full-length debut. These eleven epics of the blackest night range from rocking to contemplative, and, production-wise, from raw to Specteresque. There're just enough strings, horns, and backing vocals to broaden the horizons – but not so much that distracts from the whole or polishes the grit. And, despite their tendency towards high fidelity and grandiose ornamentation, the record never loses its organic feel. I've had a hard time listening to anything else since they handed me a copy.
Vietnam's drift towards a rather pure rock sound will of course confound the critics of two years ago who said they were too derivative of Spiritualized, Spacemen 3, Jesus and the Mary Chain, and other spatial two-chord minimalists. While the band abandoned this style some time ago, loopy residue from these more monochrome influences are definitely one of the more unique features of the band's sound. Another element that defines their approach and distinguishes them from other classic rockers is their combination of jaded New York urbanity and a raw twangy, occasionally acid-tinged, Texas eccentricity. While it would be an oversimplification to say that their sound merely reflects their musical geography, three-fourths of the band are Texas-to-New York transplants, and they started performing as Vietnam after moving back to Texas, before winding up in New York once more. An illustration of this binary in action is the time when asked them if they would do a cover song single for my label and they couldn't decide between Suicide and Roky Erickson.
Everybody knows that rock'n'roll is pure voodoo. All feeling. Rock's mythology has always championed those things that can't be quantified. There's no boundary between the music and the lifestyle. In an era saturated by the mediocre music that's rendered the genre all but invalid, rock doesn't come naturally and still can't be learned in school. It must develop through years of living and listening experience. Though I can't tell you how Vietnam obtained their secret knowledge, I can tell you where they've been. Vietnam's sound may have been different had they achieved a certain measure of success early on. The band's long winding staircase to their present glory has thus far been comprised almost exclusively of little victories. But this journey of baby steps and setbacks has proved necessary – leading them from their extremely stylized and somewhat derivative roots to something completely their own. What follows are the the trials and travails, or trails and travels, of this unique band across American musical culture.
go back to spotlight on... vietnam home | go forward to p. 2, welcome to my room
© New York Night Train , 2006