B-Sides and Rarities
misc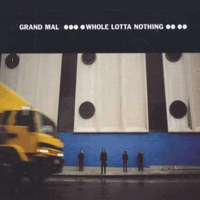 We are currently looking for our lost web-only home album Precision Exits (2001) and a few more tracks. For now, check out these tracks from British singles:
"Stay in Bed (Death In Vegas Remix)" MP3
Since this was 1999, smack-dab in the age of the DJ, Slash/London thought it would be a swell idea to have one of the hottest DJ teams give their rock band's single a danceclub makeover. What's particularly hilarious about this enterprise is that Death In Vegas' remix is even more rock than ours. They stripped everything except for the vocals and played minimal punk backing accompanyment. The joke was on everyone.
"Life's A Gas" MP3
This was the B-side to our first UK single, "Whole Lotta Nothing." We chose to do T-Rex's "Life's a Gas." At the time it wasn't as much of an obvious choice as it would be now. This was right before Velvet Goldmine, the glam revival, and many years of reissues.

Return to Grand Mal Discography Home
Go to Grand Mal feature home