PART II
1997 - 2000: maledictions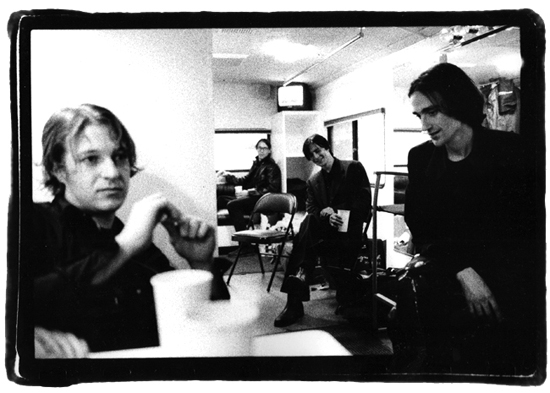 "The night is young and dumb and unstable"
- "Out on Bail"
I was working as a furniture mover and also part-time as a laborer on a tug-boat docked in the vicinity of the Chelsea Piers. I was assisting with the installation of a sprinkler system on the vessel and in general sprucing it up (it had been at the bottom of the sea for a period of time) when I heard that somebody at Slash/London had gotten hold of a copy of Pleasure is No Fun and for some reason thought that the song "Whole Lotta Nothing", with it's dub bass and beat lifted from De La Soul, had the makings of a hit. With no other options and without much pain we signed up. I took my share of the advance money and leapt into action: I had my phone turned back on, paid my back rent and went to the tattoo parlor to get a girl's name covered over with another, even worse tattoo.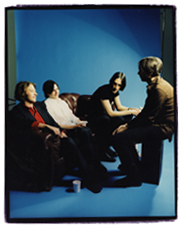 Grand Mal early 1998
Slash/London wanted us to re-record four songs from Pleasure is No Fun and then requested that we demo a bunch more for their consideration. I remember feeling indignant about this. I told the people at the label: "I never made a fucking demo in my life so why the fuck should I now?" This was a pointless demonstration of arrogance and perhaps a clear indication that I had a fairly tenuous grip on reality. Being desperate and broke we of course made the demos. John Devries and I rented a room in the back of the now defunct Dessau Studios on Murray Street and we covered the walls in tinfoil, set out some rat-traps, plugged in our amps and our Ensoniq ASR 10 Sampler (our drummer had escaped to grad school) and wrote some songs. Looking back, it's clear to me, that on some very base and sleazy level, my approach to a major label recording contract was that it was a scam. Do what was necessary but keep the fucking money flowing. Terrible.
By the time we recorded Maledictions we had re-solidified our lineup by recruiting Sixteen Deluxe drummer Brian Bowden and Meices/Dwarves bassist Steve Borgerding into our ranks. Mercury Rev's Grasshopper, who also appears on Pleasure Is No Fun, played keyboards for us temporarily.
Abel Ferrara had agreed to direct the video for "the hit," "Stay in Bed," but the label pulled out at the last minute. Damn, but I wish that had happened. However, the original version wound up featured prominently in the Rose McGowan star-vehicle Jawbreaker and its soundtrack and Death in Vegas remixed the song for a UK single.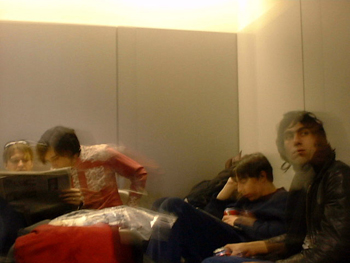 The rest of my band waiting at Heathrow Airport, 1999
Maledictions came out in England in 1998 but wasn't released stateside until 1999 – quietly appearing amidst the shuffle caused by Seagram's, and later Universal Entertainment's acquisition of Slash/London's parent company, PolyGram. The label provided us with a modest retainer to keep the band together during the long wait. Not long after the recording, Bowden was replaced by Jeff Buckley/Mooney Suzuki drummer Parker Kindred (now of Adam Green and Antony and the Johnsons) and Grasshopper was replaced by recent Austin transplant, Hamicks' guitarist Jonathan Tobin (currently of Cause for Applause). Following a month-long residency at the long gone Coney Island High in 1999 (where we previously opened for Dave Davies, Alan Vega, Pan*Sonic, Alex Chilton, The Frogs, and bunch of others I can't recall), John DeVries was replaced by Borgerding and Toubin's roommate, The Prima Donnas' Michael Willam (now the leader of Vietnam), took over on bass.
This lineup debuted a few weeks later at another much-missed venue, The Cooler, which, though it's hard to imagine now, was a scuzzy basement club located on 14th, smack dab in the middle of the meat packing district.
Grand Mal made a couple of trips to the UK where we went over fairly well - one of which included a tour opening for Echo & the Bunnymen. Stateside we had the worst booking agent in the world. He booked us at closed down amusement parks, the Jersey Shore in the winter, etc. He did manage to get us on a bill with a popular teen band at a large theater in Philadelphia – the catch was that we played in a tiny empty bar in the back. Despite all of this we somehow managed to land gigs on our own with the Flaming Lips, The Jesus and Mary Chain, Granddaddy, Imperial Teen, and a number of other swell bands. We also appeared on some fine bills at Slash/London showcases at the South By Southwest and CMJ conferences.

When we did play, live our sets typically included songs from all three albums, a couple of new ones, and covers of classics "Chinese Rocks" and "Pirate Love" by the Heartbreakers, "Ghostrider" by Suicide, "Sixteen" by Iggy and "Men of Good Fortune" by Lou Reed. Go here to check out a set recorded at a 1999 appearance at The Black Cat in DC.
Remember, this was the late 1990s – kids were either Emo or still going to raves, every downtown bar had a pair of turntables at the end, and industry folks and journalists regularly inform us that "rock is dead." At best we were considered a bit of a curiosity for basing our sound on the rock'n'roll/glam/pre-punk canon during those pre-Strokes years. A British journalist we knew mentioned that London Records, at a loss as to how to promote us, resorted to hyping our alleged bad personal hygiene, collective drug use, and general delinquency. Funny...