"Hey Man"
from
This Is Next Year: A Brooklyn Based Compilation
Arena Rock Recording Company 2001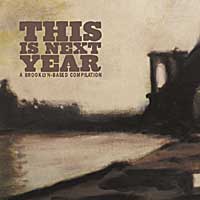 The only Grand Mal song featuring the talents of former Primadonna/current Vietnam cult leader Michael William, "Hey Man" was recorded during a snowstorm in 2000. This sci-fi epic of sorts, a curiosity in Grand Mal's discography and their last recording for a couple of years, took almost a week to complete. It appeared on the excellent Arena Rock Recording Company double CD compilation documenting the Williamsburg music scene, This Is Next Year. The Walkmen, Calla, Les Savy Fav, Interpole, and a number of other great bands also contributed tracks.
Once again we recorded at Dave Fridmann's Tarbox Road Studios. In exchange for recording the song, Grand Mal moved the Fridmann family from one house to another (it works out on an hourly basis to have been a very costly moving job).
Give it a listen...
Read more about this period in Grand Mal Mythology, Part 3 (1997 - 1999)
Return to Grand Mal Discography Home
Go to Grand Mal feature home