Maledictions
Slash/London Records, 1998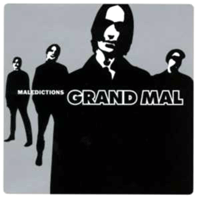 Shiny, fuzzed-out tracks like "Superstars," "Whizz Kid" and "Sixteen" have a louche, nervy feel that wears a little thin over the course of an entire album, but makes for some entertaining singles"
- AllMusic Guide
...I couldn't agree more.
By the time we returned to Dave Fridmann's newly built Tarbox studio to record Maledictions we had re-solidified our lineup by recruiting Sixteen Deluxe drummer Brian Bowden and Meices/Dwarves bassist Steve Borgerding to our ranks. This was our only record on a major label budget – meaning that we could take our time and, for once, properly compensate Dave for his masterful work. By this point Mecury Rev's Grasshopper was performing live with the band and was prominently featured on the recording as was the electrifying vocal power of unsung diva Carmen Quinones.
Despite our disfunctionality, self-destructive lifestyles, and general bad attitude, in combination with the label looking over our shoulders, we still managed to write and record some decent songs, including "Out on Bail" and "Fun, Fun, Fun," which was an accurate reflection of my state of mind:
…and there was a song that was expected to be the 'hit', called "Stay in Bed". If you feel like looking for it, you'll find a UK CD single featuring Death in Vegas' remix of the song. It also appeared in the Rose McGowan teen movie Jawbreaker and its soundtrack.
Recording commenced in 1997 but the album was not released until 1999 due to Seagram's' foolhardy acquisition of PolyGram.
TRACK LISTING
1. Superstars
2 Whole Lotta Nothing
3 Out On Bail MP3
4 Sixteen
5 Stay In Bed MP3
6 I'm in Trouble
7 Picture You (As Always Falling)
8 Fun Fun Fun MP3
9 Whizz Kidd
10 You Gotta Be Kidding
11 Sucker's Bet
12 Leave Me Here

CREDITS
Bill Whitten - vocals, guitar, programming
John DeVries - guitar, keyboards, dub bass, background vocals
Steve Borgerding - banjo, harmonica, bass
Dave Fridmann - keyboards, programming
J.Bryan Bowden - drums, percussion
Additional personnel:
Grasshopper - guitar, keyboards, background vocals
Suzanne Thorpe - flute
Carmen Quinones - background vocals
Produced by Dave Fridmann, Bill Whitten, and John Devries.
Recorded at Tarbox Studios, Cassadaga, New York from December 1997 to January 1998.
Read more about this period in Grand Mal Mythology, Part 3 (1997 - 2000)
Return to Grand Mal Discography Home
Go to Grand Mal feature home