Love is the Best Con in Town
New York Night Train Recordings 2006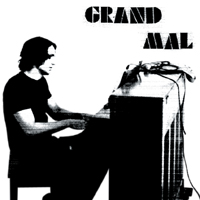 With my band at the time, pretty much one-hundred-percent of the Gnomes, otherwise occupied on the road backing Adam Green, I decided to track some tunes that autumn with Mark Ephraim. He had a studio in the same building that the Gnomes rehearsed in. Mark, a Detroit native, co-produced, engineered and played guitar. "Count Me In!" and "Cold as the Stars" date from this session. There were some other tunes including "Shadowlandz" but upon further consideration I felt that they were a bit too lugubrious, and slow moving, even for me.
I didn't have enough money to go back and track new songs with Mark so I decided I would buy a tube pre-amp and a good mic and use them in conjunction with my superannuated Oswald 15. This is one of the luxuries you have when you have no label, no band, no manager, no lawyer, no budget, no fans, and no time limit. You can pull back and return to the drawing board; you can call for an aesthetic do-over.
I continued a pattern where I've based the sound of one album on my favorite song from the album previous to it. So Bad Timing was more or less based on "Out on Bail" from Maledictions - while the songs on Love is the Best Con are more or less cut from the same musical cloth as "Disaster Film" from Bad Timing. I had become obsessed with the sound of the piano and I wanted to orient the sound of whatever new music I made around it. It's a mysterious instrument to me. I can barely play, but, whenever I sit down in front of it, I'm amazed by all the rhythms and colors that come flying out. Besides, my guitar was such a piece of crap - I got tired of trying to tune it every five minutes.
I don't personally associate a lot of the pop music that's been made on the piano (that I listen to anyways) with the debauched, depraved and dissipated style of rock and roll that I had been exploring up until recently. I mean, there probably is a Johnny Thunders of the piano but I just don't hear him. Although the Beach Boys may have been one of the most fucked up bands of all time, the piano driven songs on Sunflower, Holland, Carl and the Passions radiate a good natured soulfulness that I wasn't finding in the Stooges, the Heartbreakers, etc.
In addition to the Beach Boys' albums, I was also inspired by Worker's Playtime by B.B. Blunder, the song "O Caroline" by Matching Mole… and when I was recording the album I would A/B it to the Ballad of Todd Rundgren (a really dry sounding kind of lo-fi album from 1971). However, my long-standing obsession with the NY Dolls, Chuck Berry, The Faces and the Rolling Stones remains evident throughout.
So I began making music at home. I knew the songs would not be paeans to my own untimely death. That was pretty much the only criterion I had for the album, no drug songs…
After I'd completed writing 3 or 4 songs I'd usually drag my gear over to the rehearsal space of the drummer who had the time and inclination to play on my songs. More often than not it would be Parker Kindred (who would also stop by my house and add his distinctive voice to many of the songs) and we'd run through a track or two a few times until we were happy with the performance. Then I'd pack up and go home...
Next, I would record the upright piano (that's featured on every song) in room 804b at the Rhet Lorens Academy of Musical Theatre in mid-town. It's a kind of rehearsal space for would-be Broadway actors, singers, belly dancers etc. A totally non-rock'n'roll environment. And very cheap rental rates…
"His Baleful Eye" was one of the first songs undertaken. Starting out as a recollection of a dream that I had, another dead rock star dream, it was initially about David Bowie dead in his coffin, but not truly dead. He was actually angry and he stared at me. His one dilated eye radiated hostility. But the song's subject matter changed to what was on my mind at that time - the recent departure of my ex-girlfriend. Dave Sherman made up the piano riff in the verse that the song is built around.
"What do you sing about when you don't want to sing about love?
let's see my life is filled with interesting stuff
David Bowie died in my dream last night
he lay in his coffin with his baleful eye
then he turned into you..."
Rich Meyer added eerie, sweeping harmonies to the chorus. He contributed vast amounts of sonic coloring to Love is… If more people knew about his preternatural harmonic talents I think he would become a highly sought after studio guy. He can knock out a three-part harmony in minutes and his pitch is nearly inhuman in its perfection. Rich is currently the bass player in J Russo's band Hopewell. As for J., we've been tight since '95 when he played bass in Mercury Rev. I think we met when St. Johnny played at the Rhinecliff Hotel on a double bill with Agitpop.
Although this is the first Grand Mal album not produced by Dave Fridmann he was nice enough to master it.
And, for all of you completists, here's the list of all of the talented folks who dropped by my house to lay down tracks for the record…
reno bo--bass guitar, lead and rhythm guitar (the Fame)
chris isom--lead guitar, phantom guitar ( Kapow!)
phil williams---drums (Hopewell and the Silent League)
steve mertens—bass (the Adam Green band)
joan wasser---viola/violin (Joanas Policewoman)
nate brown---wurlitzer (the Adam Green band)
mark ephraim---lead guitar, engineer, co-production (the Shorebirds)
j.russo--lead guitar (Hopewell)
justin russo—keyboards (the Silent League)
rich meyer--bass guitar, back-up vocals (Hopewell)
parker kindred---drums, percussion and back-up vocals (the Adam Green band, Antony & the Jonsons)
jon natchez--baritone, tenor sax, flute, lap steel the Silent League)
mike fadem--drums and percussion (the Silent League, the Jealous Girlfriends)
kevin thaxton—bass (the Silent League, the Winter Pageant)
dave sherman---piano and organ (GoodbyeGirl Friday)
michael robertson--lead guitar (Mason Dixon)
lisa haney- cello
ryan smith—piano (a Million Billion)
ari surdoval--lead guitar, acoustic guitar
james beaudreau--lead and rhythm guitar
amy miles--back-up vocals
charles hughes—organ
Track Listing:
01. From Hartford to Times Square.
02. Cold As the Stars MP3
03. Count Me In! MP3
04. Not a Penny to My Name
05. People Change (Maybe They Don't)
06. His Baleful Eye
07. The Best Con In Town MP3
08. Living on Charity
09. C'mon
10. World I Thought You Turned Yer Back
11. Here's to Our Estrangement
12. Down At The Country Club
Read more about this period in Grand Mal Mythology, Part 5 (2003 - 2006)
Return to Grand Mal Discography Home
Go to Grand Mal feature home