June 2006: SPOTLIGHT ON...
NOTEKILLERS
SOUNDS...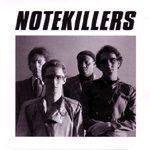 Notekillers were kind enough to set us up with a whole slew of MP3s including early tracks, live material, rarities and their latest single. Check it out and go find more...
FROM NOTEKILLERS (1977 - 1981) (ECSTATIC PEACE, 2004)
The Zipper (1980)
The song that started it all... the Side A of their first 7"
Juggernauts (1981) - compiled on Notekillers (1977-1981) (Ecstatic Peace, 2004)
The intended flip-side of the unreleased "Run Don't Stop" 7"
FROM NK'S GO PLAY OUTSIDE (SELF REL., 2005)
The following tracks were recorded live at Murphs Other Bar in York, PA in July 2005:
Motorcycle Song
Punk Song
Jumper
Papers
NK'S NEW SINGLE (TWO BIG, 2006)
These are two new Notekillers songs recorded since the reunion! Try 'em on, they smoke...
Airport
Ants
A Song for Jan 20th 2005 (internet rel. 2005)
This cover of Jefferson Airplane's "House at Pooneil Corners" was recorded as a commentary on the 2004 presidential election. It should also be noted that this is the first Notekillers recording with vocals...
BONUS: TRACKS BY DAVID FIRST SANS NOTEKiLLERS
Notekillers guitarist David First is also an avant garde composer/musician. Here are a few tracks from across his prolific career:

Strange Over (by The World Casio Quartet, from Resolver O.O. Disc CD #5, 1991)
A Bet on Transcendence Favors the House (excerpt from 1998)
Zoom from Universary (from the Analysand CD A-KCS CD 9128, 2002).
KracMiami from DF's Operation:Kracpot (live at Subtropics Festival 3/28/03)
Harebrainer - from Dave's Waves - a Sonic Restaurant (from Ants #09 CD, 2003)
Go back to NYNT's Notekillers homepage