June 2006: SPOTLIGHT ON...
NOTEKILLERS
ON RETURNING: A CONVERSATION WITH DAVID FIRST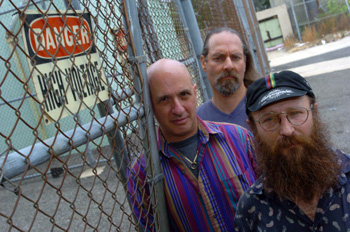 Between 1977 and 1981, Notekillers fashioned music light-years in the future, left a lone document of their subterranean existence, and resurfaced a quarter-century later to learn that not all of the five-hundred copies of the record had fallen on deaf ears – informing contemporary music in general from deep down below. Guitarist David First gives NYNT the scoop on their unique reunion... (read on)
"THE ZIPPER" AND BEYOND
A biographical introduction to the Notekillers
ON RETURNING: A CONVERSATION WITH DAVID FIRST
Notekillers guitarist David First discusses what its like to taking up where he left off.
PHOTO GALLERY
pictures documenting the life and times of the Notekillers
SOUNDS
Full-length MP3s of Notekillers studio tracks, live recordings, and oddities
LINKS
Don't let your exploration stop here...